Make a splash for sustainability during SU-UConn game Feb. 11
Syracuse University's Students In Free Enterprise (SU-SIFE) group needs your help to make a big splash during Saturday's men's basketball game at the Carrier Dome. Literally. 
As the Orange faces the University of Connecticut Huskies on the court, SU-SIFE will have a dunk tank set up in the backcourt area where fans can try and "Dunk-A-Husky" (an SU-SIFE member dressed in UConn apparel) for a small donation. It will all be done tastefully and in good fun to help promote SU-SIFE's Do One Thing (DOT) for Sustainability campaign. It will also be for a good cause, as the proceeds will benefit the World Wildlife Fund.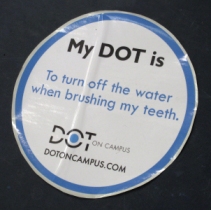 SU-SIFE, a Whitman School of Management student organization, launched the DOT campaign on campus last spring. It provides a simple way for the SU community to embrace environmental, economic and social sustainability by doing one small thing to improve their lives and the lives of those around them. Anyone can declare their DOT at the group's dotoncampus.com website. The goal is to get many DOTs connected together. While one person's DOT may stand alone, if a billion DOTs are connected a movement of positive change will happen. 
As they have for most home basketball games this season, SU-SIFE students will staff a table in the Carrier Dome during Saturday's SU vs. UConn game where fans can submit their DOTs online. To draw attention to this table, a trail of large DOTs on the floor will lead from the student seating section to the SU-SIFE table. A DOT promo video featuring Otto was recently filmed and will premiere on the Dome's screens during the game.
In addition to the dunk tank, other entertaining touches planned throughout the game include DOT banner displays in the student section and Otto will don a DOT cape. These efforts are being made possible with the assistance of the Carrier Dome operations personnel and Syracuse University Athletics. 
The SU, UConn game on Saturday, Feb. 11, at the Dome starts at 1 p.m. Tickets are available at http://www.carrierdome.com/tickets/, by phone at 1-888-DOMETIX or 315-5-443-2121, at Ticketmaster outlets, and at the Carrier Dome Box Office. 
DOT is one of SU-SIFE's 10 ongoing projects. SU-SIFE is a nonprofit, student-run organization focused on promoting environmental, social and economic sustainability on the SU campus, in the community and abroad. 
What's your DOT? Submit it at dotoncampus.com.