Career Services hosts annual Spring Career Expo Feb. 8
Syracuse University's Office of Career Services within the Division of Student Affairs will hold its annual Career Expo in Goldstein Auditorium of the Hildegarde and J. Myer Schine Student Center, on Wednesday, Feb. 8, from 11 a.m.-3 p.m. More than 60 employers are scheduled to attend the event. This year, General Electric, Macy's/Bloomingdale's, and JPMorgan Chase are the featured sponsors, with supporting sponsorship from New York Army National Guard and Iberdrola USA.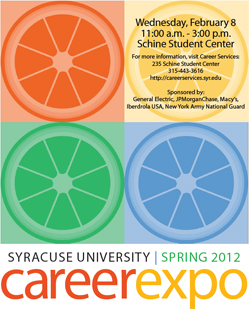 The Career Expo enables students, alumni and Syracuse community members to network with a diverse group of employers to explore full-time and internship opportunities. Attending companies include: Accenture Inc.; Aflac; Agro-Farma (Chobani); Bloomberg; Chipotle Mexican Grill; City Year; Deloitte Consulting; General Electric; The Hershey Co.; Iberdrola USA; JPMorgan Chase; Lockheed Martin; Macy's/Bloomingdale's; New England Center for Children; New York Army National Guard; Omnicom Media Group; PepsiCo/Pepsi Beverages Co.; and Time Warner Cable.
Students of all majors and years are highly encouraged to attend the Career Expo. Employers from multiple industries are looking to hire for a variety of positions.
"We are very excited to connect our students with potential employers. The expo is a great way for students to pursue jobs and internships and explore future opportunities," says Sue Casson, associate director of employer relations in Career Services. "Employers come to our campus because of the diversity our campus offers. We often hear employers mention the strength of our students, between their academics and their involvement on campus."
A complete list of Career Expo employers and job positions is available on OrangeLink. OrangeLink is now accessible through MySlice.
For more information, contact Career Services at 315-443-3616, located in the Schine Student Center, Suite 235.