Blood Drive Activism campaign will launch Monday in tandem with SU-UConn blood battle kickoff
Syracuse University's Division of Student Affairs is launching a Blood Drive Activism campaign in tandem with the kick-off to the SU-UConn Blood Battle on Monday, Feb. 13. The blood drive will take place from 2-9 p.m. in Goldstein Auditorium in the Hildegarde and J. Myer Schine Student Center.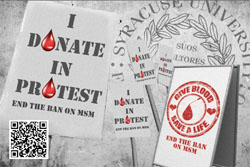 The campaign aims to educate the SU community on the U.S. Food and Drug Administration (FDA) blood donation ban on men who have sex with men (MSM). The ban, which has been in effect since 1983, defers as blood donors any men who have had sex with other men at any time since 1977. Although there have been numerous calls for the ban to be lifted in recent years, it still remains in effect.
Participants in the Feb. 13 blood drive and the subsequent April blood drives will be invited to "donate in protest" of the ban by signing a hard-copy postcard that encourages the FDA to end the ban. Postcards will be available at a table in the auditorium staffed by students from Pride Union and the LGBT Resource Center. Signed postcards will be mailed to the FDA.
"It's important to raise awareness about how this is an SU communitywide event that is not open to participation for all of our community. Our theme of 'donating in protest' allows us to encourage the donation of much needed blood, while making a clear statement to the FDA," says Chase Catalano, director of the LGBT Resource Center.
Campus and local community members are also invited to participate by signing an online petition at BloodDriveActivism.syr.edu., which will be made available during the April SU-UConn Blood Battle.
For more information on the Blood Drive Activism campaign, contact Jill Ouikahilo, director of communications for the Division of Student Affairs, at 443-8568 or jcouikah@syr.edu.