Dance Exchange residency Feb. 2-18 at Syracuse University
Syracuse University's ArtsEngage welcomes Dance Exchange for a two week residency, Feb. 2-18. The company begins its residency with a performance and talkback session at Plymouth Congregational United Church of Christ, 232 East Onondaga St., at 10 a.m. on Sunday, Feb. 5. The group will hold final performances Saturday, Feb. 18, at 4 p.m. and 8 p.m. at the Community Folk Art Center, 805 E. Genesee Street.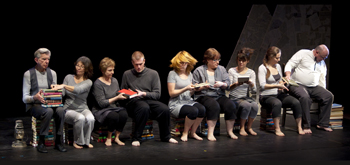 Dance Exchange, based in Washington, D.C., is an intergenerational company of artists that performs across the country, incorporating dance movements that reflect the people and culture of the city where they perform. To understand the city and culture, the group invites students and the public to recruitment and craft-making workshops and gathers stories around which they build their dance movements. All skill levels, majors and community members are welcome to attend the recruitment and craft-making workshops.
Recruitment workshops will be held Thursday, Feb. 2, at 6 p.m. in the Schine Student Center, Room 304, and Saturday, Feb. 4, at 10 a.m. at Plymouth Congregational Church. The craft-making workshop will be held Saturday, Feb. 4, at 1 p.m. in the 601 Tully Event Center, 601 Tully St. Attendees have the option of performing with Dance Exchange on Feb. 18; craft-making attendees will help build props for final performances. 
All events are free and open to the public.
Dance Exchange was founded in 1976 by Liz Lerman and is now under the artistic direction of Cassie Meador. Dance Exchange stretches the range of contemporary dance through explosive dancing, personal stories, humor and a company of performers whose ages span six decades. The work consists of concerts, interactive performances, community residencies and professional training in community-based dance.
ArtsEngage is part of Syracuse University's Office of the Arts Presenter. It's ArtsEngage's privilege to engage and inspire SU and the surrounding Syracuse community through diverse performance art. The 2011-2012 season has included David Sedaris, Buglisi Dance Theatre, Harlem stride pianist Stephanie Trick, Kronos Quartet, eighth blackbird and more. ArtsEngage also collaborates with Syracuse Stage and Ping Chong & Company in the ongoing creation of "Cry for Peace: Voices from the Congo," a documentary theater production based on the stories of CNY Congolese refugees.