Vote for SU student to become America's Next Eco-Star
Zach Goldberg is working to create a more sustainable world. Whether he's promoting recycling or blogging about sustainability, the Syracuse University freshman leads by example to show how simple actions can make a difference. It's this dedication to being green—along with support from the SU community—that may just propel him into eco-stardom. 
Goldberg is a nominee in America's Next Eco-Star, a competition for eco-savvy students and young adults. To support his run for the Eco-Star title and show the world how green the Orange can be, cast your vote for Goldberg at http://apps.facebook.com/contestshq/contests/139814 by Friday, Feb. 24. On the voting form, simply enter Zach Goldberg in the "your vote" field.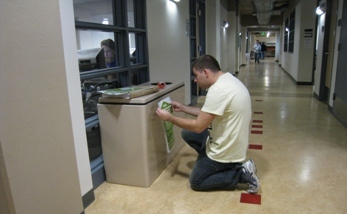 The would-be Eco-Star Goldberg is an honors student and Coronat Scholar in The College of Arts and Sciences studying international relations, policy studies and energy and its impacts. Known for his willingness to volunteer for almost any sustainable event or activity, Goldberg took it upon himself last semester to hang SU's new recycling posters in all of his residence hall's recycling rooms. Over the semester break, he kept busy interning with a renewable energy systems company.
"I just try to make sustainability accessible," says Goldberg. "I like to promote doing small, simple things that won't force you to abandon the comforts of your daily life, though still make a significant, positive impact on the environment, and maybe even save you some money as well." 
Besides regularly posting to his blog "Being Green in a Sea of Orange," Goldberg is secretary of the newly formed student sustainability group on campus and is also an intern with SU's Sustainability Division. While he admits that it's sometimes difficult to change people's habits, he tries to remain optimistic by making sustainability fun and interesting. 
"I know that what I'm doing makes a difference when people comment on my blog, or when I see sustainable changes starting to take place around campus and being told that they got the idea from something I did," says Goldberg. 
America's Next Eco-Star is sponsored by SmartPower, a nonprofit marketing firm promoting clean energy, and by the U.S. Department of Energy. The contest winner will be announced in mid-March. He or she will receive an all-expenses-paid trip to the summer 2012 Sustainable Futures Academy in Austria and a fellowship with SmartPower. The winning contestant's school or alma mater will receive $1,000 to use toward its sustainability efforts and the school's president will be invited to attend the 2012 Sustainable Futures Academy.