'Design and Aging' on view at Design Gallery through March 19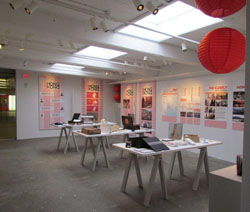 "Design and Aging," an exhibition of student design projects focused on solutions to problems associated with aging, is on view at the Design Gallery at The Warehouse through March 19. The exhibition is free and open to the public. The Design Gallery is located on the first floor of The Warehouse, 350 W. Fayette St., Syracuse. Patrons should enter The Warehouse via the ground-floor door adjacent to the café on W. Fayette St. or the first-floor door on West Washington Street.
The exhibition features work by students in industrial and interaction design, interior design and advertising design in the College of Visual and Performing Arts. It includes a project that explores how effective design could assist the elderly population of Hong Kong, as well as a series of posters that illustrate potential kiosks that could be targeted to mall walkers at Shoppingtown Mall in DeWitt.
The gallery is open daily, 10 a.m.-5 p.m. For more information, contact Bradley Hudson at bjhudson@syr.edu.