SUArt Galleries presents 'Pressing Print'
Opening at the SUArt Galleries on Feb. 2, the exhibition "Pressing Print: Universal Limited Art Editions 2000-2010" chronicles the recent decade of artwork published by the renowned American printmaking workshop Universal Limited Art Editions (ULAE). The exhibition assembles new print works created by the 20th century masters of American Art (Jasper Johns, Robert Rauschenberg and Helen Frankenthaler) and emerging artists recently selected to collaborate at Universal (Zachary Wollard, Amy Cutler and Tam Van Tran).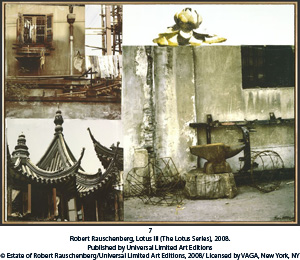 More than just a survey of artwork published since 2000, "Pressing Print" is a specific examination of ULAE's ongoing commitment to innovative approaches and techniques in contemporary printmaking. Under the direction of master printmaker Bill Goldston, experimentation is embraced in the printshops at Universal—allowing the artists and printmakers total freedom to fully realize their work. Pigmented ink-jet printing and dimensional construction is featured alongside, and many times in addition to, traditional printmaking techniques. Ultimately, the 52 works in the exhibition exemplify why Universal Limited Art Editions has been, and continues to be, a transformative force in contemporary art.
"This exhibition is very exciting to me, both as a printmaker and as an admirer of contemporary American Art," says Andrew Saluti, assistant director of the SUArt Galleries and curator of the exhibition. "To see recent work from the likes of Jasper Johns, Robert Rauschenberg, Kiki Smith, Jane Hammond, Amy Cutler and others is a rare experience, but to also see how they embrace the full range of what can be achieved through printmaking—incorporating digital prints with etching and lithography; collage and construction with traditionally two-dimensional methods—it's truly a unique opportunity for the Syracuse community and a testament to the level of work that ULAE continues to produce."
The show is free and open to the public. Complete information and related programming is available by visiting the official exhibition website at suart.syr.edu/ulae.
The SUArt Galleries will host a free opening night reception from 5-7 p.m. on Thursday, Feb. 2. A gallery talk will be led by Saluti starting at 4 p.m. Patrons are welcome to view the exhibition until the gallery closes at 8 p.m. The reception is open to the public.
The SUArt Galleries will present a free lecture by ULAE Director Goldston on Thursday, Feb. 23, at 6 p.m. in the Slocum Hall Auditorium. Goldston will speak about his experiences and reflect on the work selected for "Pressing Print."