Acclaimed interior designer Thom Filicia '93 to speak Jan. 20
Acclaimed interior designer and College of Visual and Performing Arts (VPA) alumnus Thom Filicia '93 will give a talk on Friday, Jan. 20, at 1 p.m. in the auditorium of The Warehouse, first floor, 350 W. Fayette St., Syracuse. The talk is free and open to the public. Patrons should enter The Warehouse via the ground-floor door, adjacent to the café on West Fayette Street or the first-floor door on West Washington Street.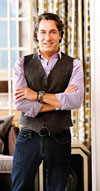 Filicia is a graduate of VPA's interior design program in the Department of Design. His diverse credentials include being named one of House Beautiful's Top 100 Designers, one of Elle Décor's Top 25 A-List Designers and receiving House & Garden's International Tastemaker designation. He is the host and driving force behind the highly acclaimed Style Network series "Tacky House" and "Dress My Nest" and is currently appearing in a variety of shows on the HGTV network. His projects and expertise have been regularly featured in Elle Décor, House Beautiful, Traditional Home, Country Living, Us Weekly, People, Entertainment Weekly, O At Home, Domino, Family Circle, Woman's Day, the New York Times, USA Today, InStyle and Teen Vogue.
Before Filicia came into the public eye with his first television role as the design expert on the groundbreaking series "Queer Eye for the Straight Guy," he was an emerging superstar of interior design with a prolific and respected New York City practice, Thom Filicia Inc. (TFI). Founded in 1998, TFI clients include high-profile celebrities, international luxury hotel chains and prestigious clientele in the fashion, entertainment, media, real estate and finance industries.
Filicia has a diverse design portfolio, including interiors for Tina Fey, Jennifer Lopez and Marc Anthony, multiple W Hotels, dressing rooms at "The View," windows at Christie's and an eco-friendly apartment for Riverhouse, Manhattan's first premium (LEED certified) "green" luxury condo, which received a merit award by Interior Design Magazine for Best Eco-Residential Design Interior. In addition, Filicia's multifaceted retail home collection, Thom Filicia Home, is available around the country and internationally and includes furniture, fabrics, rugs, broadloom, wall art, lighting and more.
In 2008 Filicia launched his first design book, "Thom Filicia Style" (Atria/Simon & Schuster). Learn more about Filicia at http://www.thomfilicia.com/home.