Th3 events scheduled for Thursday, Jan. 19
Th3 (The Third Thursday), a consortium of 21 Syracuse arts venues that coordinate free visual arts events from 5-8 p.m. on the third Thursday of every month, will feature the following exhibitions on Jan. 19:
For more information, visit: http://www.th3syracuse.com or find us on Facebook: https://www.facebook.com/TheThirdThursday.
ArtRage – The Norton Putter Gallery
505 Hawley Ave., 218-5711
5–8 p.m. – Meet the Artist
Mary Lawyer O'Connor's exhibit brings images and textiles of Guatemalan weavers together in a vibrant and colorful show.
Everson Museum of Art
401 Harrison St., 474-6064
Exhibition on view: "American Art from the Permanent Collection."
Light Work/Robert B. Menschel Media Center
316 Waverly Ave., 443-1300
Exhibition on view: "Looking & Looking," featuring work by Jen Davis and Amy Elkins.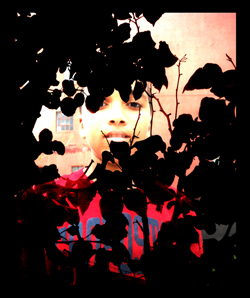 The Link Gallery @ The Warehouse/ PAL Project
350 W. Fayette St.
Exhibition on view: "The World Thinks My Name is Sad," PAL Project collaboration with P.E.A.C.E Inc.
Point of Contact Gallery
914 Genesee St., 443-2169
Opening Reception: 6:30- 9 p.m. for the exhibition "RE VISIONS." Works by local artists Michael Burkard, Tessa Kennedy and Jay Muhlin.
Special Collections Research Library (*note, SCRC closes at 7 p.m.*)
6th Floor, E.S. Bird Library, Syracuse University
Featured Exhibition: "Just One Word: Plastics.: The exhibition features a representative sample of the plastics collection at the Syracuse University Library and presents an overview of major trends in the development of plastics in everyday life.
SUArt Galleries
Shaffer Art Building, Syracuse University, 443-4097
Exhibitions on view:
"Sources and Structures: The Art of Robert Stackhouse"
"Engineered Perspectives: Railroad Culture in the Modern World"
"Emilio Sanchez: No Way Home"
Szozda Gallery
501 W. Fayette St.
Exhibition on view: "Dependent Structures," a display of mixed media paintings by C. J. Hodge III, Tom Townsley and Stephen Perrone.
Urban Video Project
Everson Museum UVP: John Knecht, "DELUGE," 2010, and John Knecht, "ANIMA," 2011.
The Warehouse Gallery
350 W. Fayette St, 443-6450
Exhibitions on view:
"Deng Guo Yuan" (Main Gallery)
"Black Night/White Night" by Elisabeth Meyer (Window Projects at The Warehouse Gallery, viewable 24/7 on Fayette Street)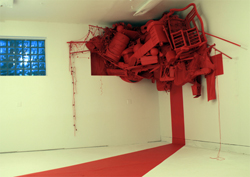 XL Projects
307-313 S. Clinton St., 443-8070
Annual Stone Canoe art exhibition, featuring artworks by a diverse mix of artists included in the 2012 issue of Stone Canoe journal.