School of Education to host workshop on African genocides and the Holocaust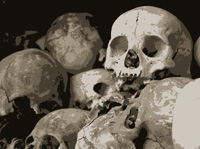 The School of Education's Regional Holocaust and Genocide Initiative will host a workshop titled "Teaching about Genocide with a Focus on Africa" at Syracuse University's Winnick Hillel Center on Feb. 13 from 4-7 p.m. The workshop will be presented by Edward Kissi, associate professor in the Department of African Studies at the University of South Florida. This event is free and open to the public, and free parking will be available in the University Avenue Garage. As a courtesy, groups of 10 or larger are asked to call the School of Education at 315-443-4696 to register. Continuing Education Units (CEUs) are offered for educators who participate in the workshop.
The workshop will focus on the ways historical African events influenced Raphael Lemkin's original concept of genocide, as well as the understanding of the Holocaust in general and the United Nations Genocide Convention of 1948. Kissi will also explore how the concepts of genocide have changed since 1994 with the situations in Rwanda and Darfur. The goal of the workshop is to examine the Holocaust through an African lens and to understand that German colonial rule in Africa had an effect on the Holocaust.

teachingtheholocaust.org.