Point of Contact Gallery to present 'Constrain/Contain'
The Point of Contact Gallery will present "Constrain/Contain," a spatial experiment and first solo exhibit by New York environmental artist Sam Horowitz, opening on Jan. 27, with an artist's reception at 6 p.m. The exhibition runs through March 15.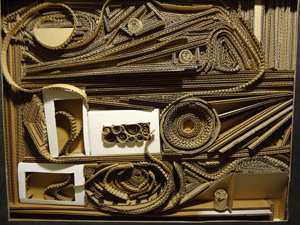 In today's virtual era, when we can communicate at light speed, inhabit cyber realities and continually discard the "old" in search for "upgrades," one might expect that technology innovation makes us less burdened, less constrained by time and space. By the same token, so many of us are living rushed unthinking lives, desensitized and isolated from anything real. Are we constrained by our own innovations? We work, live and play inside frames, according to Horowitz, and those frames are mobile or immobile, physical, mental or metaphorical.
In this exhibition, the intrusion of familiar objects with uncharacteristic contents invites the viewer to reconsider the forms, functions and limitations of recognizable, repurposed relics, and pokes fun at our decreasing flexibility, our increasing demands and the collective loss of craft, localized innovation and repair.
"The trunks, once utilitarian objects used to carry clothing and other personal items, are now filled for the sake of filling. The cardboard, created initially to contain other entities, functions as contents. Though each framing device no longer holds the contents they were created to contain, they contain nonetheless; it is the humor and irony of this relationship that I strive to illustrate thorough my work," Horowitz says.
To create this installation, Horowitz began by collecting trunks, cases and boxes. Though most bore a patina of age, use and neglect, he cleaned, fixed and saved each piece. Horowitz is able to manipulate cardboard to create the designs and patterns he finds within the lines and corrugation so readily offered. "I have drawn each piece through the gauntlet intentionally, irrationally or purely by necessity," says Horowitz. "Thinking over my work, and planning new directions strays into theory, but in practice, I work, live and act in this moment."
The Point of Contact Gallery is a member of the Coalition of Museum & Art Centers at Syracuse University. It is free and open to the public. Regular gallery hours are Monday, Wednesday and Friday  9 a.m. to 3 p.m.; Tuesday and Thursday, noon to 3 p.m. To schedule visits at any other time please call 315-443-2169.