NYC-based fashion photographer Lindsay Adler '08 to visit SU
Career Services and the Office of Alumni Relations are bringing fashion photographer Lindsay Adler '08 back to campus on Tuesday, Feb. 7, as part of the Alumni Speaker Series. Adler will give a presentation about her career at 7:30 p.m. in Watson Theater, located in the Robert B. Menschel Media Center. The event is free and open to the public. Light refreshments will be served.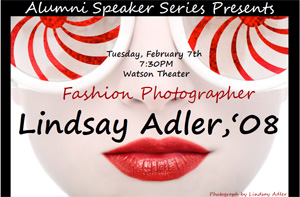 For the past 10 years, even while a student at SU, Adler has owned and operated a portrait, fashion and wedding studio distinguished by its 'fashion flair' approach to imagery. As a New York-based fashion photographer, her editorials have appeared in dozens of publications internationally. She regularly contributes to a variety of major photo publications, including Professional Photographer, Rangefinder Magazine, Popular Photography and more.
In May 2010, Adler published her first book, "A Linked Photographers' Guide to Online Marketing and Social Media" (Course Technology PTR). In February 2011, she published her second book, "Fashion Flair for Portrait and Wedding Photography" (Course Technology PTR).
Adler is sponsored by a variety of major photography companies and can be found as a platform speaker at events like WPPI, Photo Plus, NECCC, PSA, and many more. She teaches thousands of photographers annually on topics ranging from retouching, to fashion techniques, to studio lighting.
Though only in her mid-20's, her career and photography have received much acclaim and she has already become a respected name in the business.
The Alumni Speaker Series is a collaborative effort of Career Services within the Division of Student Affairs and the Office of Alumni Relations, which brings SU alumni back to campus each semester to share their career stories. The Speaker Series will continue this semester with Microsoft's Lan Luan on Feb. 21, Keppler Speakers' Theo Moll on March 27, and MC2 Events Exhibits Environments' Brian Tarrant on April 4.
For more information about the Alumni Speaker Series and upcoming speakers, contact Kim Brown  at kmbrow04@syr.edu, or 443-3616.