IJPM's fifth annual Law, Politics and the Media Lecture Series kicks off Feb. 8
The fifth annual Law, Politics and the Media Lecture Series presented by the Institute for the Study of the Judiciary, Politics, and the Media at Syracuse University will run from Feb. 8 to April 18, with eight scheduled lectures designed to engage the dialogue about the court system and its environment as a single, integrated subject of study.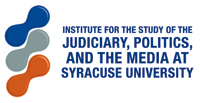 The lectures complement the "Law, Politics and the Media" course and involve sitting judges, practicing lawyers and working journalists.
All lectures are held on Wednesdays, from 4-5:15 p.m. in room 204 of the College of Law.
The spring 2012 scheduled topics and speakers are:
Feb. 8: "An End Run Around the First Amendment: What Journalists Don't Know They Can't Publish," with David Rubin, professor and dean emeritus at the Newhouse School;
Feb. 15: "Whistleblowers: Essential Voices for Accountability," with Tom Devine of the Government Accountability Project;
Feb. 22: a lecture by Nan Aron, president and executive director for the Alliance for Justice and Alliance for Justice Action Campaign;
Feb. 29: "Tax Expenditures, the Size and Efficiency of Government, and Implications for Budget Reform," with Leonard Burman, Daniel Patrick Moynihan Professor of Public Affairs at the Maxwell School;
March 28: "Access with Attitude: The Free Flow of Information, the Press, the Law and Covering Government," with David Marburger, Partner, Baker & Hostetler, LLP;
April 4: "Preserving Judicial Independence: The Chief Judge's Recipe for New York," with Jonathan Lippman, chief judge for the New York Court of Appeals;
April 11: "Covering Washington in a Time of Media Change and Challenge," with Steve Koff, Washington Bureau Chief for the Cleveland Plain Dealer; and
April 18: "Press Freedom and Media Development," with Marguerite H. Sullivan, senior director of the Center for International Media Assistance.
All lectures are free and open to the public. For more information, contact Nicholas Everett at ngeveret@syr.edu.