Kane joins Syracuse University as associate vice president of public relations
Erin Martin Kane has been named associate vice president for public relations at Syracuse University. The appointment, made by Kevin Quinn, senior vice president for public affairs, is effective Jan. 3.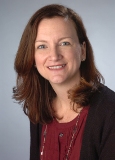 A resident of Pittsford, N.Y., Kane most recently served as founder and president of EMK Public Relations, a boutique public relations firm based outside of Boston. A communications strategist with nearly 20 years of in-house, agency and consulting experience, Kane led the public relations and communications efforts for the award-winning PBS news and public affairs series "FRONTLINE."
At "FRONTLINE," Kane directed national publicity and community outreach campaigns for more than 200 documentary films and investigative reports, securing coverage in the pages of every major market newspaper in the country. Kane has also worked on several high-profile PBS productions and specials with co-production partners including The New York Times, ABC News, the BBC and NPR. In 2010, she led the national community engagement campaign for the American Experience/FRONTLINE co-production "God in America," a six-hour report on the intersection of religion and public life in America.
"Erin brings us extensive experience creating and directing national proactive media campaigns and will serve the University extremely well as we continue to raise our visibility with top-tier media outlets, thought leaders and other core constituents," says Quinn.
In her new role, Kane will oversee the Office of News Services and work with Quinn and other senior University leadership to create a unified and proactive communications agenda for the University.
Prior to public broadcasting, Kane worked in public relations for several years in Boston teaching hospitals. She began her professional communications career in 1991 in the external affairs office at Tufts New England Medical Center. She later went on to manage media relations at Deaconess Hospital, a teaching hospital for Harvard Medical School.
After the birth of her two sons, Kane launched EMK Public Relations, where she continued to consult on national media projects, including the launch of GlobalPost.com, the first Internet news website dedicated exclusively to international news.
For three years, Kane was a visiting professor at Framingham State University, where she taught "Introduction to Public Relations." Kane is a graduate of the University of Massachusetts at Amherst.