Health & Society
Food Network's Anne Burrell to judge Syracuse's Iron Fork Competition to benefit Syracuse Rescue Mission
Syracuse University visit includes book signing, free public lecture on Italian cooking
Syracuse University's Department of Public Health, Food Studies and Nutrition in the David B. Falk College of Sport and Human Dynamics has partnered with the Syracuse Rescue Mission to present the First Iron Fork Competition, Jan. 29 from 11 a.m.-4 p.m. in Syracuse University's Hildegarde and J. Myer Schine Student Center.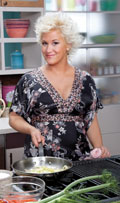 The event, based on the Food Network's "Iron Chef" television program, will feature teams of local chefs competing for the title of Iron Fork Syracuse. A panel of celebrity judges, including Burrell, will select the winning team. Proceeds from the event will support the Syracuse Rescue Mission. Co-sponsors for the competition include Cazenovia Limousine, Coffeemania, Maines Food Source, Oneida Limited, Syracuse Blue Print Co, Sysco and U.S. Foods Co.
In addition to the competition, Burrell will sell and sign her book, "Cook Like a Rockstar," from 4-4:45 p.m. in the Syracuse University Bookstore in the Schine Student Center. Immediately following the book signing, Burrell will also present a lecture, "Studying and Cooking in Italy," from 5-6 p.m., in the Schine Student Center. The lecture is free and open to the public.
Burrell has worked at some of the top restaurants in New York, studied the culinary landscape and traditions of Italy, and has battled alongside Mario Batali as his sous chef on Food Network's "Iron Chef America." Burrell eliminates the intimidation of restaurant dishes and reveals concise, easy-to-master techniques for the at-home cook on her Food Network series "Secrets of a Restaurant Chef." She also co-hosts "Worst Cooks in America," a prime-time reality show where Burrell leads a team of hopeless home cooks from around the country through culinary boot camp.
Growing up in upstate New York, Burrell's passion for food and cooking began at an early age. After obtaining an English and communications degree from Canisius College in Buffalo, she pursued her interest in the restaurant business by enrolling in the Culinary Institute of America. Following graduation, she spent a year in Italy attending the Italian Culinary Institute for Foreigners while working at La Taverna del Lupo in Umbria and La Bottega del' 30, a one-Michelin star restaurant in Tuscany. She has held numerous positions in the industry and has shared her culinary knowledge and passion as a teacher at the Institute of Culinary Education.
"The Falk College is committed to making a difference in the community and embracing Chancellor Cantor's vision of Scholarship in Action. Partnering with the Rescue Mission for this event allows us to do just that," says Diane Lyden Murphy, dean of the David B. Falk College of Sport and Human Dynamics. "The Syracuse Rescue Mission provides for those in need and serves over 230,000 meals yearly. Supporting the work they do with this event is a natural fit for the college."
Tickets for the Iron Fork event are available for $75 for floor access and $20 ($10 with student or military ID) for balcony seats. Floor tickets include the opportunity to see the competition up close, a silent auction, reception, cash bar and a variety of industry vendor booths. For more information, and to order tickets, contact John Reule at Wise Guys Comedy Club (315-744-8430) or by email at ironfork_syracuse@yahoo.com.