New entrepreneurial position ignites the student voice
For the past several years, there has been a growing entrepreneurial ecosystem at Syracuse University, and it's about to get stronger. 
A group of current and recent SU graduate students with a vested interest in seeing entrepreneurship thrive at SU, as well as in the surrounding community, saw an opportunity for collaboration, more efficient use of resources and a stronger student voice. The group created the entrepreneurial consultant position with a clear vision in mind: 
to create an environment in which students have equal opportunity to enter into the entrepreneurial community regardless of their academic background;
to create an environment in which students move seamlessly across campus, adding value to their entrepreneurial endeavors; and
to create an umbrella of entrepreneurship where every school and college at SU contributes to an open system. 
The momentum toward such an environment was started by Enitiative more than four years ago.  The new entrepreneurial consultant, Tory Gentes, will be the "feet on the street" observing, talking, listening and building relationships with key stakeholders: students.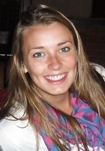 "The student voice is the strongest force that will break down barriers to schools and colleges at SU working toward the common goal of fostering entrepreneurship," says Gentes, a 2010 alumna of the Whitman School of Management, serial entrepreneur and leader of the Women in Entrepreneurship program for Enitiative. "My goal is to make sure every student at SU who wants to start a business or nonprofit knows there is a support system already in place for them. Working with graduate assistants in each school and college strengthens our efforts and demonstrates the deans' commitment to cross-school collaboration in entrepreneurship." 
Gentes will guide a team of graduate assistants to lead the vision of the student voice. The team will monitor and track the success of current entrepreneurship strategies, as well as student opinions and attitudes, to help guide future initiatives. Gentes will also participate on relevant entrepreneurship boards to ensure that the student voice is guiding initiatives on campus. 
"Enitiative's commitment to ongoing assessment and continuous improvement relies heavily on knowing, predicting and facilitating movement of the student body toward measurable results," says Bruce Kingma, associate provost for entrepreneurship and innovation at SU. "This new position complements Enitiative's efforts and gives a strong voice to students. Tory's communication style, knowledge of the existing entrepreneurial ecosystem and innovative approach to idea implementation will be a tremendous asset as we move forward to create the seamless entrepreneurial environment envisioned by our students." 
To learn more about Enitiative, visit http://cnyentrepreneurship.com/ or contact Enitiative at enitiative@syr.edu or 315-443-7086.