Office of Residence Life sponsors Dream Week Jan. 23-27
Syracuse University's Office of Residence Life and Division of Student Affairs will sponsor Dream Week 2012, "Yesterday's Dream. Today's Action. Tomorrow's Reality." Events will take place on the SU campus from Jan. 23-27.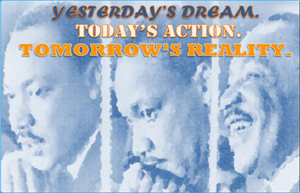 All of the Dream Week events are free and are open to the SU and greater Syracuse communities. For more information on these events, contact Brian Hopkins at 443-2945 or bthopkin@syr.edu.
Dream Week events include:
Monday, Jan. 23
Field of Dreams
Schine Student Center
Students will have the opportunity to design their dreams on a flag that will then be "planted" in the green space between Schine Student Center and Newhouse 1. The display will go up on Monday, Jan. 23, and remain visible for the whole week. Tabling will take place in the Schine Student Center through Friday, Jan. 20, during which students will be able to design their flags. Stop by the display and see the dreams of tomorrow's leaders.
Tuesday, Jan. 24
Capturing the Dream
5-6:30 p.m.
Panasci Lounge, Schine Student Center
This art display will feature the work of children from Syracuse elementary schools. The artists's pieces will relate to King's life, legacy and dream. London Ladd, illustrator of the children's books "March On! The Day My Brother Martin Changed the World" by Christine King-Ferris, and "Oprah: The Littlest Speaker" by Carole Boston Weatherford, will be signing copies of these books. The first 25 students to arrive will receive a free book. A reception will follow.
Wednesday, Jan. 25
"Black Males/Black Dreams: Climbing to the Mountaintop"
Documentary and Panel Discussion
7:30 p.m.
Joyce Hergenhan Auditorium, Newhouse 3
"Black Males/Black Dreams" looks at the myriad of obstacles faced by many African American males, including low academic achievement, an inner-city culture of hopelessness and poverty, and the lack of black male role models in schools and professional life. Through the eyes of the men themselves, their friends, relatives, teachers and mentors in community agencies, the film explores what it takes to succeed and to steer clear of what has been called "the school-to-prison pipeline." Theirs is a story of resilience, hope and faith in the American dream. The event is co-sponsored by the S.I. Newhouse School of Public Communications and the School of Education.
Thursday, Jan. 26
Poetry Night featuring Verbal Blend
7:30 p.m.
Maxwell Auditorium
Verbal Blend Poets is a collective of voices that contribute to one mic–one voice. They're diverse in their career paths, diverse in their writing styles, diverse in their stage presence and diverse in bringing their poetic stories to a global community. Following readings by Verbal Blend, there will be an open mic session for others present to share their work.
Friday, Jan. 27
Campus Day of Service
9 a.m.-2 p.m.
Hendricks Chapel Noble Room
Come join others who want to help out the Syracuse community by making blankets that will be provided to a local organization.
Performance Showcase
8 p.m.
Grant Auditorium, College of Law
This showcase will display the talents of various SU clubs and organizations, including a Greek scroll competition. Tickets will be available at the Schine Box Office beginning Friday, Jan. 20.