'Dogs at Work' U.S. postage stamps feature paintings by VPA's John Thompson
A new series of U.S. postage stamps celebrating canine coworkers feature paintings by a human artist who is also on the faculty of Syracuse University's College of Visual and Performing Arts (VPA).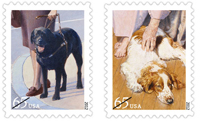 "Dogs at Work," a series of four 65-cent stamps, is being issued Friday, Jan. 20. John Thompson, a renowned artist and professor of illustration in VPA's Department of Art, created original paintings for the stamps, which were designed by art director Howard E. Paine. The set depicts four hard-working canines: a guide dog, a tracking dog, a therapy dog and a search-and-rescue dog. The 65-cent denomination is the price for single-piece retail first-class mail weighing more than one ounce and up to and including two ounces.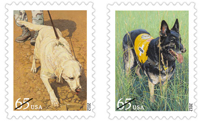 "This was my first assignment for the U.S. Postal Service," says Thompson. "I had the privilege of working with an art director whom I'd long admired, Howard Paine. The whole process of coming up with the stamp designs was a thoroughly enjoyable project. All of the models for the paintings, both dogs and people, were from the surrounding [Central New York] area."
Thompson has exhibited his work widely, including the recent solo show "India" at the Society of Illustrators' Members Gallery in New York City. He has won numerous gold and silver medals for his illustrations, including the 2006 Hamilton King Award from the Society of Illustrators for the best illustration of the year. As a children's book illustrator he has won several American Library Association Notable Book Awards. He is included in Walt Reed's "The Illustrator in America: 1860-2000" (The Society of Illustrators, 2001).