Arts & Culture
Non-stop music in 'Caroline, or Change'
Two powerhouses of the American theater, playwright Tony Kushner ("Angels in America") and composer Jeanine Tesori ("Thoroughly Modern Millie" and "Shrek: The Musical"), join forces on a musical of startling creativity and refreshing originality (don't be surprised when the washing machine starts to sing). A stellar cast, led by Greta Oglesby, delivers powerful vocals in this unconventional, through-composed musical, the recipient of six Tony nominations followed by the Olivier Award for Best Musical.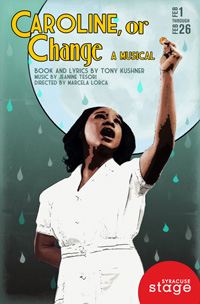 The year is 1963—civil rights and Kennedy—and in the Gellman household in Lake Charles, La., 8-year-old Noah struggles with the loss of his mother, while Caroline, the family's African American maid, struggles as a single mom of four children. Through Caroline and Noah's friendship, Kushner and Tesori explore thoughts on economic hardship and racial inequity that are as relevant today as they were in the early 1960s. Rich with humor, humanity and of course, music—ranging from blues to gospel to traditional Jewish melodies—"Caroline, or Change" delivers a deep and uplifting message about change, in big ways and small.
Running Feb. 1—26, "Caroline, or Change" will be performed in the Archbold Theatre at Syracuse Stage, 820 E. Genesee St. Tickets range from $18-$50 and are available at the Syracuse Stage Box Office, 315-443-3275 or http://www.SyracuseStage.org.
Presenting sponsors are the Dorothy and Marshall M. Reisman Foundation and Arts Engage at Syracuse University. Sponsors are the National Endowment for the Arts, M&T Bank, Lockheed Martin MS2, Constellation Energy Nuclear Group, and Carrier Corp. Media sponsors are Syracuse.com, Urban CNY, WAER and WCNY. Syracuse Stage's 2011-2012 season sponsors are The Post-Standard and Time Warner Cable.
The title role in "Caroline, or Change" will be portrayed by Oglesby, winner of an Ivey Award for her portrayal of Caroline in the acclaimed Guthrie Theatre production. "Oglesby delivers a ravishing and powerful lead performance … playwright Tony Kushner was visibly choked up," reported the Minneapolis Star Tribune.
Oglesby's numerous credits include originating the role of Aunt Esther in August Wilsons' "Gem of the Ocean" (Goodman Theatre and Oregon Shakespeare Festival), the title role in Wilson's "Ma Rainey's Black Bottom" (Oregon Shakespeare Festival and Milwaukee Repertory Theatre), the role of Mother Shaw in "Crowns" (Guthrie Theatre), Gertrude in "Hamlet" (Oregon Shakespeare Festival) and singing a selection from "Caroline, or Change" at the Kennedy Center during a special event celebrating the work of Tesori.
Musically directing the Syracuse Stage production is Christopher Drobny, whose credits include "Antony and Cleopatra" directed by Vanessa Redgrave (Joseph Papp Public Theatre), "The Entertainer" with Brian Murray (Classic Stage Company), and "The Threepenny Opera" with Betty Buckley (Williamstown Theatre Festival).
Including Oglesby, the 17-member cast includes 14 professional Equity actors. Also featured in the Syracuse Stage cast is local actor Séamus Gailor as Noah Gellman. A fourth-grader from Cortland, Gailor has studied and performed with Cortland Performing Arts/PAI for the past six years and has appeared in the SUNY Cortland productions of "The Nutcracker," "Luna Park" and "A Christmas Carol," as well as "Joseph and the Amazing Technicolor Dreamcoat" and "Brigadoon" for Cortland Repertory Theatre. After extensive local auditions, Gailor was cast in "Caroline" along with several other young actors involved in the show: Malachi Emmanuel (as Joe), Levonn L. Owens (as Jackie), Christof Deboni (Understudy Noah), and Elijah M. Theus (Understudy Jackie/Joe).