PricewaterhouseCoopers to support SU's Better Together can donation drive Feb. 6-8 with $1 donation for each can collected
PricewaterhouseCoopers (PwC) is offering an exciting challenge to the Syracuse University community during the Can It! Rivals on the Court: Teammates in the Fight Against Hunger food donation drive on campus in early February.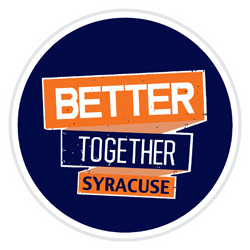 PwC will donate $1 to the Food Bank of Central New York for each can collected at the Better Together table in the Hildegarde and J. Myer Schine Student Center Atrium from Monday, Feb. 6, through Wednesday, Feb. 8. Donations will be accepted from 10 a.m.-4 p.m. on each of the three days. Canned goods are available for purchase in the SU Bookstore.
"Food Bank of Central New York is so pleased to partner with Syracuse University and PwC. Can It! will help raise awareness on hunger issues in our 11-county service area of Central and Northern New York," says Lynn Hy, director of philanthropy at the Food Bank of Central New York. "Last year, we distributed 11,550,147 pounds of food, or enough food for 26,370 meals each day. The support from the Syracuse University and greater Syracuse communities means we can continue to provide nutritious food to hungry individuals and families."
"Syracuse University students are excited to get involved to help provide food to residents in the Central New York area," says Syeisha Byrd, director of the Office of Engagement Programs in Hendricks Chapel and campus coordinator of Better Together. "The Better Together Syracuse campaign provides a great avenue for students to get involved to support the local community."
"Can It! Rivals on the Court: Teammates in the Fight Against Hunger," is a University-wide interfaith initiative that will kick off on both the SU and Georgetown University campuses in February to collect canned food and monetary donations for local food banks. The initiative is part of the Better Together: President's Interfaith and Community Service Challenge in which both universities are participating.
Donations for the Food Bank of Central New York will be collected at the Syracuse vs. Georgetown men's basketball game in the Carrier Dome on Wednesday, Feb. 8, at 7 p.m. Fans attending the game are encouraged to bring donations of canned goods, which may be deposited in collection receptacles at the gates upon entry. Monetary donations may also be made.
SU students, faculty and staff may also donate canned goods at the Better Together table in the Schine Atrium from Wednesday, Feb. 1, through Friday, Feb. 3, from 10 a.m.-4 p.m. Students who donate three or more cans will receive a free T-shirt.
For more information on the Can It! Food drive or Better Together initiatives on the SU campus, contact Byrd at 443-1254 or smbyrd@syr.edu or visit the Better Together Syracuse Facebook page.