National a cappella sensation The Backbeats to perform at SU on Feb. 4
Syracuse University's Pulse Performing Arts Series presents a concert by the unique-sounding a cappella group The Backbeats on Feb. 4 at 8 p.m. in the Goldstein Auditorium at the Hildegarde and J. Myer Schine Student Center. The Backbeats are one of the newest groups to hit the a cappella scene since being a finalist on Season 2 of NBC's "The Sing-Off." Tickets are available at the Schine Box Office (315-443-4517) at $5 for SU/SUNY-ESF students with ID; $16 for faculty, staff and alumni; and $20 for the general public. Parking is available in the Lehman and Harrison lots for $4.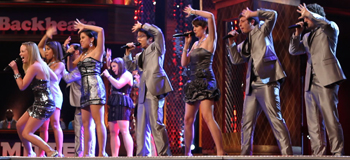 Assembled from members of competing collegiate ensembles, The Backbeats are quickly developing a new sound. With diverse experience in songwriting, musical theater, business and film, each performer brings his or her own talent and fresh perspective to this super-group. Their unique voices blend together to create a stirring, rich and soulful sound that is undeniably their own.
Their self-titled debut album "The Backbeats from The Sing-Off" features a mix of hand-selected cover hits, including the group's rendition of Beyoncé's "If I Were A Boy," which helped seal their top-three position on Season 2 of the show. The album also includes a track featuring the Grammy-nominated and Season 3 judge from "The Sing-Off," Sara Bareilles, who guests on the group's version of Bareilles' hit "Uncharted."
"We couldn't be more excited to have The Backbeats coming to Syracuse," says Deanna Payson, a senior political science major. "It really shows how much a cappella has grown, not just on our SU campus, but on the national stage. Witnessing such a renowned group live in concert will give the SU groups something to aspire to, as well as inspire our local community."
The Backbeats deliver commanding lead vocals, luscious harmonies and electrifying vocal percussion, but their true strength lies in their commitment to sincere and passionate performance. It is this commitment that has led each member to join together for a group that is far greater than the sum of its parts.
For more information, contact Courtney Jones, assistant director for the Office of Student Activities, at 315-443-2718.