VPA M.F.A. thesis show 'Fishing from the Beach' travels to West Coast
"Fishing from the Beach," the 2011 master of fine arts (M.F.A.) thesis show of Syracuse University's College of Visual and Performing Arts (VPA), has opened on the West Coast at the Arcade Gallery of the San Pedro Arts & Academic Alliance, 479 W. 6th St., San Pedro, Calif. The show, which runs through Saturday, Jan. 21, is free and open to the public. Gallery hours are Wed.-Sat., noon-6 p.m.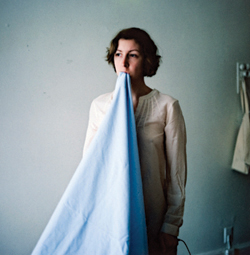 VPA will host a reception for alumni on Sunday, Jan. 8, from 1-3 p.m. For more information about the alumni reception, contact Traci Washburn, VPA director of alumni affairs, at 315-443-4728 or tmwashbu@syr.edu.
"Fishing from the Beach" features work by 2011 graduates of M.F.A. programs in VPA's Departments of Art and Transmedia. The show was also presented in November at Dumbo Arts Center in Brooklyn, with a film and video screening at Bard College, Annandale-on-Hudson, N.Y.
Artists featured in the show include Nicholaus Arnold, Michael Berlant, Jeffrey Einhorn, David Drori, Joo Young Ha, Eric Johanni, Daina Mattis, Tyler McPhee, Joshua Reiman, Holly Rodricks, Alex Schmitz, Shimpei Shirafuji, Nathaniel Sullivan, Darcy Van Buskirk, Colleen Woolpert and Sarah Zamecnik. The exhibition is curated by four master of arts (M.A.) degree candidates from Bard College's Center for Curatorial Studies (CCS Bard): Janine Armin, Rachel Cook, Suzy Halajian and Leora Morinis.
"Fishing from the Beach" is the result of a collaboration between the graduate programs in the Departments of Art and Transmedia and the graduate program at CCS Bard. The SU graduate students sought to establish a working relationship with curators at a similar stage of professional development. After approaching CCS Bard with a proposal, a call was issued to interested M.A. students, and the team of curators was selected for the project.
Over the course of spring and summer, the curators conducted a series of studio visits in Syracuse and formed a curatorial vision for the exhibition. The collaboration also produced a catalogue with essays by the curatorial team and art museum professional and educator David Ross '71, an SU alumnus.
Artists in "Fishing from the Beach" also presented an exhibition of work this past spring at SUArt Galleries on the SU campus.
For more information, contact Rodricks at hrodrick@syr.edu.