Residence Hall Association seeks sponsors for Orange Angels program
The Residence Hall Association (RHA) within the Division of Student Affairs' Office of Residence Life (ORL) is partnering with the Boys and Girls Club of Syracuse for the annual Orange Angels program. Orange Angels sponsors children from the Syracuse area with gifts for the holidays.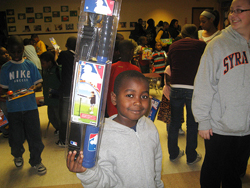 Diana Angst '14, an economics major and the director of civic engagement for RHA, hopes that the group can reach its goal to collect gifts for 331 children between the ages of 5-18 years. Currently in its sixth year, the goal for gift collection has increased each year since 2006, when the RHA president at that time, Michael Grzelak '10, helped to start the initiative.
"We would greatly appreciate gifts with a $12 price value," says Angst. "For most of the children of the Boys and Girls Club of Syracuse, this is one of the only holiday gifts that they will receive this holiday season, so they are always very appreciative and always excited to receive a gift."
Gifts will be collected through Dec. 9, and can be dropped off at the Office of Residence Life at 111 Waverly Ave., Suite 200, between 9 a.m.-5 p.m., Monday through Friday. Students, faculty and staff are all welcome to bring an unwrapped gift or gift card.