Memorial service for longtime LCS employee John Kotlarz is Dec. 9
A memorial service for John M. Kotlarz will be held Friday, Dec. 9, at 4 p.m. in Hendricks Chapel. A reception will follow in the Noble Room.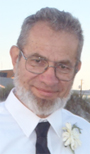 Kotlarz, a resident of Cicero and senior experimental machinist in the L.C. Smith College of Engineering and Computer Science (LCS) for more than 30 years, died Oct. 8. He was 62.
Mark Glauser, associate dean for research and doctoral programs in LCS and professor in the college's Department of Mechanical and Aerospace Engineering, says that Kotlarz and the machine shop were one and the same for many years. "John was extremely dedicated to the college. He worked closely with the formula car and ATV teams and was a key contributor to many student and research projects. His value to the college cannot be overstated."
His experience and counsel were invaluable to research groups in the college, Glauser says. One example was how Kotlarz found a way to fix a large compressor in the college's high-speed anechoic jet facility in house for around $500—tens of thousands of dollars less than a local company quoted.
Kotlarz was very excited about a current project that he was working on, developing the new student shop. "As many of you know, this was something that John really wanted to see happen," says Glauser. "We will miss him very much, especially on this exciting new project."
Kotlarz was an avid hunter and outdoorsman. He made hundreds of wreaths each holiday season to give to family and friends.
He is survived by his wife, Donna; a son and daughter-in-law, Brian and Brandi Kotlarz; a daughter and son-in-law, Ellen and Adam Duke; a daughter-in-law, Amy Kotlarz; a grandson, Samuel Kotlarz; and a large extended family. He was predeceased by his son, LCS alumnus Adam Kotlarz '00, in 2009.