iSchool and Microsoft partner on social networking experiment
The School of Information Studies (iSchool) and Microsoft Corporation announce a partnership to better understand how Microsoft's new social software So.cl can be used with students who have grown up with social software, study information science and design communication tools.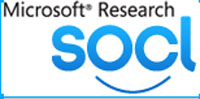 So.cl (pronounced "social") combines search and social networking for the purpose of learning, and is the latest experiment from Microsoft Research arm FUSE Labs.  The application, closely tied to Facebook, allows users to create rich posts by assembling montages of visual web content, and provides a platform for rich media sharing and real time sharing of videos via "video parties" to encourage interaction and collaboration.
Microsoft Research hopes that students will use So.cl to extend their educational experience and rethink how they learn and communicate.
"This is a tremendous opportunity for our students to work with emerging social media tools from our partners at Microsoft," says Anthony Rotolo, assistant professor of practice at the iSchool.  "The social media landscape is evolving at a rapid pace, and the iSchool is at the forefront of this area of study. Our students are uniquely positioned to offer innovative ideas and feedback to Microsoft researchers as they develop cutting-edge technologies, and early access to these tools allows our students to develop a forward-looking view of how social media will take shape in the years ahead."