STEM
Hydrocarbon fuel cells show promise for micro power generation systems
Jeongmin Ahn, assistant professor in the department of mechanical and aerospace engineering in the L.C. Smith College of Engineering and Computer Science, has published a review of Power Micro Electro-Mechanical Systems (Power MEMS) in the high-impact combustion society journal Progress in Energy and Combustion Science (PECS).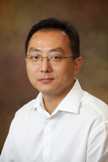 PECS invited Ahn to write the article based on a history of expertise in the field. Ahn's previous research resulted in the development of several types of Power MEMS devices, including a micro heat exchanger, a micro fuel cell and a micro heat engine.
For PECS, Ahn and David C. Walther of the University of California, Berkeley (now at the biofuel company Cobalt Technologies) presented an overview of the advances and challenges in the development of power-generation systems at small scales. The field of micro-scale combustion and power generation is growing due to the continued miniaturization of computers and other electro-mechanical devices. Ahn's work in the field for the past several years has been focused on development of miniature hydrocarbon fuel cells that will reduce the weight of systems that are smaller in size than a penny and help increase the life of such systems. He has also worked on development of a micro-heat engine that is operated by rapidly heating and cooling hydrocarbon fuels. The vibrations from the expanding and contracting liquid inside of a heat engine create electrical energy to power a small electromechanical device.
The current micro-fuel cell market is driven by hydrogen, but hydrogen presents challenges at the micro-level. Its gaseous nature makes it difficult to contain, volatile and unstable. Hydrocarbon fuels such as butane or propane, on the other hand, can be easier to work with at the micro level. They are easily transportable, safer than hydrogen and have a high-energy density—nearly 100 times the energy density of a typical micro battery. "That's why cars and airplanes are powered by fuel and not driven very long on batteries. A battery for that much power would be too heavy. However, a lighter, miniaturized combustion device even with low efficiency would still be more powerful than batteries," says Ahn. 
Even though MEMS technology is still in the early stages of development, Ahn believes significant progress has been made within the last few years. Functional micro-scale turbines and rockets have been developed and shown to produce thrust. The future of combustion and power generation using hydrocarbon fuels is showing promise for Power MEMS applications.