Detroit Mayor Dave Bing to keynote Syracuse University's 27th Annual Martin Luther King Jr. Celebration
Syracuse University will hold its 27th Annual Martin Luther King Jr. Celebration on Saturday, Jan. 21, 2012, in the Carrier Dome. This year's theme is "A Living Legacy: The Fierce Urgency of Now." Dave Bing '66, H'06, mayor of Detroit, will be the keynote speaker.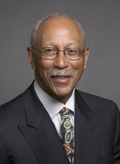 "It is an honor to celebrate the life and contributions of Dr. Martin Luther King Jr.," says Bing. "Syracuse University helped give me the knowledge and value system to pursue a career in public service. It is important that we pass that legacy on to the next generation."
SU's annual celebration is among the largest university-sponsored events in the United States to commemorate King. Last year, more than 2,000 people attended the event.
The evening program, which will include the presentation of the 2012 Unsung Hero Awards and entertainment, begins at 6:30 p.m. and is free and open to the public. Tickets for the dinner, which precedes the program at 5 p.m., are $25 for the general public and $15 for students without meal plans. Students with meal plans will be charged for one dinner. For ticket information, call Hendricks Chapel at 315-443-5044.
A community festival celebrating arts, culture and education in the Syracuse community will be held on Saturday, Jan. 21, from noon-3 p.m. at Dr. Weeks at Shea Middle School, located at 1607 S. Geddes St.
"We are proud to once again host our annual Martin Luther King Jr. Dinner Celebration, a communitywide tradition lasting more than a quarter of a century," says Tiffany Steinwert, dean of Hendricks Chapel. "One of the nation's largest celebrations of Dr. King's legacy on a university campus, it provides campus and community alike the opportunity to gather together and to celebrate Dr. King's living legacy. His message of equality, dignity, peace and justice still speaks to us today, urging us to press on until his dream becomes reality for all people in this country and around the world."
"The Dr. King Celebration Committee is delighted to welcome Mayor David Bing as the keynote speaker for the 27th Annual Dr. King Celebration at Syracuse University," says Marissa L. Willingham, program associate in the Office of Multicultural Affairs and chair of the 2012 Martin Luther King Jr. Celebration Committee. "In his social and political life, Mayor Bing embodies the virtues espoused by Dr. King and challenges all around him to live a life of honesty and high moral integrity. In the spirit of Dr. King and consistent with the theme of our celebration, Mayor Bing will challenge us to contribute to world peace through freedom and social justice."
Bing was elected the 62nd mayor of the City of Detroit in May 2009. A native of Washington, D.C., Bing earned a bachelor's degree in economics from Syracuse University in 1966 and was bestowed an honorary doctorate of laws degree in 2006.
He was a standout basketball player and an All American in both high school and during his college career. Bing was drafted by the Detroit Pistons as their No.1 pick in 1966. He was voted one of the Top 50 basketball players of all time, and was inducted into the Michigan Hall of Fame in 1984 and into the Naismith Hall of Fame in 1990.
Bing turned his winning strategies from the basketball court to the boardroom as the founder of an automotive supply corporation, the Bing Group, in 1980, where he served as president and chairman until April 2009. Within a decade, The Bing Group was recognized as one of the nation's top minority-owned companies by Black Enterprise.
Answering yet another call to serve, Bing decided to run for mayor to help rebuild a city that he has loved and been a part of for more than 40 years. Proving that the basics of good performance, integrity and business can be applied to any area or industry, Bing has brought a renewed sense of trust and hope to the City of Detroit.
For more information about the Martin Luther King Jr. Celebration, call Hendricks Chapel at (315) 443-2901 or visit Facebook at https://www.facebook.com/#!/pages/Syracuse-University-Martin-Luther-King-Jr-Celebration/179128475430845.