Whitman names winners in semiannual student Capstone Competition
Sixty-three student teams representing more than 300 Whitman seniors competed in the semiannual Capstone Business Plan Competition held Dec. 9-10 at the Whitman School of Management.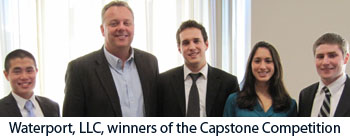 At the conclusion of both the fall and spring semesters, Whitman's Department of Entrepreneurship and Emerging Enterprises hosts the Capstone Business Plan Competition. Every Whitman senior participates in the Capstone experience—an experiential program that brings together all of the elements of the Whitman education in the context of an original business concept that students conceive and develop as a viable, sustainable and truly innovative new venture.
A participant in the competition, Victoria Di Napoli '12, notes, "This class brought together students from all majors and backgrounds within the business school. It allowed the students to combine their knowledge and skill sets, which they are not able to experience to this degree in any other class." Student teams present their business plans before panels of judges composed of entrepreneurs, venture capitalists and others from the entrepreneurial community in Central New York.
First place and a prize of $500 was awarded to WaterPort, LLC, consisting of team members Christopher Grant, Di Napoli, William Craine and Hunt Lau and mentored by Ken Walsleben. "It was a great personal achievement and testament to our hard work," saysDi Napoli, speaking on behalf of the entire team. "We are very grateful for everyone who helped us along the way in developing our idea and guiding us to the best resources."
Second place and a prize of $300 was awarded to Sweet Spot, consisting of team members Olga Litvinenko, David Ben-Hayun, Mitchell Bernstein, Katie Galezo and Kelly Geer and coached by Whitman faculty member John Torrens. Third place and a prize of $200 was awarded to DENTprotect, consisting of team members Zach McClure, Roz Amirfazli, Alyssa Georgian, Crystal Zhou and Jon Eisenberg (also mentored by Torrens). The top teams also earn the chance to represent the Whitman School at national business plan competitions.
Honorable mentions were given to teams Reference Points and Snowshield. Reference Points team members included Jonathan Carrubba, Joseph Ottenstein, Jorie Richlin-Zack, Erica Taylor and Robert Zaccaria, and was coached by Alejandro Amezcua. Snowshield team members included Conrad Cutler, Hyunji Kim, Brandon Tan, Alexandra Tartell and Sarah Rittenhouse and was coached by Torrens.