Popularity of SU's Zipcar program skyrockets
The Syracuse University community has embraced the sustainable "wheels when you want them" concept of Zipcar—the world's largest provider of cars on demand by the hour or day. Over the past 18 months, the number of people enrolled in SU's Zipcar car-sharing program has more than tripled to more than 1,150 registered users. 
The 1,077 registered students make up the largest group of Zipcar users by far. Although the number of faculty and staff who have joined is only nearing 100, there are three campus departments that have Zipcar accounts, speaking to the convenience and economics of using Zipcar as a pay-for-use-only corporate car.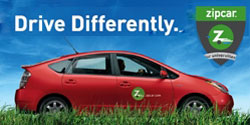 "The Zipcar program has been a great addition to the SU campus, especially for students," says Al Sauer, director of SU's Parking and Transit Services. "As the program has grown, so has demand for the cars. On average, each SU Zipcar is in use 68 percent of the time—or 17 hours per day—including weekends and overnight. That's a lot of car sharing without anyone fighting over who gets the keys next." 
The Zipcar program, like Parking and Transit Services' other sustainable transportation options, is eco-friendly. Zipcars reduce vehicle emissions around the University, as well as campus road and parking congestion.
Joining and using Zipcar is convenient—everything is done online. The cars are available 24/7 by online reservation only. And joining now is even more economical thanks to special pricing in effect. SU and the SUNY College of Environmental Science and Forestry students, faculty and staff can join for $25 and get $35 in free driving time. Using a Zipcar costs $7-$8 per hour—or $66 per day—and always includes gas and insurance. For full details visit SU's Zipcar site at http://zipcar.com/su. 
SU's growing Zipcar popularity has also boosted the number of available vehicles. Another car was added at the start of this semester,bringing the total up to seven. They are conveniently located on campus as follows: 
180 Small Rd. on South Campus (1 vehicle)
200 Slocum Heights Drive on South Campus (1 vehicle)
Carnegie Library Quad 3 Lot (2 vehicles)
Stadium Lot below the Carrier Dome (1 vehicle)
Waverly Lot (2 vehicles) 
"It's not surprising that Zipcar has become so popular since the University's program began nearly four years ago," says Sauer. "With the high cost of gasoline as well as vehicle insurance and upkeep these days, it just makes sense for many in a campus setting to 'pay as you go' when you occasionally need to use a vehicle." 
For more information on other available campus sustainable transportation programs, visit the Parking and Transit Services website.