Business & Economy
Yormark named Best CEO Student Leader
Michael Yormark, a junior in the Whitman School of Management majoring in entrepreneurship and emerging enterprises, as well as marketing management, was named the Best CEO Student Leader at the 2011 Collegiate Entrepreneurs' Organization (CEO) conference.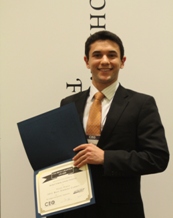 The Best CEO Student Leader award is given to a student leader who possesses a determination that focuses not only on themselves but the overall progression of their entrepreneurial organization. 
Prior to Yormark's tenure as president, the CEO Chapter at Syracuse University had been through a few of years of decline. Yormark came on board as president and immediately made a difference.                                                
"Michael Yormark is amazing," says Bruce Kingma, associate provost for entrepreneurship & innovation at SU, Whitman professor and SU Entrepreneurship Club faculty adviser. "He took over as president of the CEO Chapter at SU in fall 2011 and added the collaborative leadership, imagination and entrepreneurial spirit needed for the revitalization and growth of the Entrepreneurship Club." 
Yormark ran a many-pronged marketing campaign to attract new members to the club.  He ran recruitment tables in several of the academic buildings on campus, sent emails to all academic program directors and talked to freshman students in the Creativity, Entrepreneurship and Innovation (CIE) learning community to increase membership.  Yormark has also opened club membership to graduate students and to students across campus, attracting students from the visual and performing arts, information technology, arts and sciences, communications and many other disciplines. Today, 392 students have become members of the Entrepreneurship Club at Syracuse University—the largest number of students in the club in its history at SU.  
"I have tried to reach a new audience this year," says Yormark.  "Nearly every school offers some course based around creativity and innovation. Students don't realize that every major has an entrepreneurial aspect to it. The theater major who takes a role and makes it his own, he is an entrepreneur. The mathematician who uses a formula in a different way is an entrepreneur. By reaching out to the entire university with this idea, the Entrepreneurship Club has seen a more colorful array of students than ever before." 
More than 1,000 students from more than 100 universities attended the CEO conference in Fort Worth. There are more than 235 CEO chapters across North America. The conference featured many speakers, including Gene Landrum (author and original founding member of Chuck E. Cheese), Michael DeLazzer (founder of Redbox), Aaron Steed (CEO and founder of Meathead movers) and several 30-under-30 recipients.   
"The Entrepreneurship Club has shown incredible potential this semester, and with the enthusiasm from its members and the community, I am confident that it will continue to grow in the future," Yormark says.
To learn more about the SU Entrepreneurship Club, visit its Facebook and twitter pages, or stop by one of the weekly meetings every Monday at 7:15 p.m. in room 104 of the Whitman School of Management.