Arts & Culture
A fantastical, musical adventure for the holidays in 'The Lion, the Witch and the Wardrobe'
London. The war is on and the bombs are falling. Four children—Peter, Susan, Edmund and Lucy—flee the perils of the Blitz to the safety of the countryside. In an old wardrobe, they discover a portal to the land of Narnia, where a fearsome White Witch holds the inhabitants spellbound in a winter lasting 100 years. There the children enter a deadly struggle, joining with the great lion, Aslan, to battle the White Witch and her army. Commissioned by the Royal Shakespeare Company and rarely produced state-side, this thrilling musical adaptation of C.S. Lewis' inspiring tale delivers excitement for the whole family. Recommended for ages 6 and up.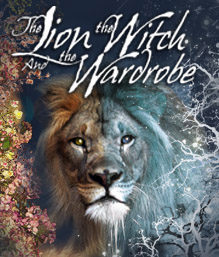 Running Nov. 25-Dec. 31, "The Lion, the Witch and the Wardrobe" (LWW) will be performed in the Archbold Theatre at Syracuse Stage, 820 E. Genesee St. It is co-produced with Syracuse University's Department of Drama. Tickets range $18-$50 and are available at the Syracuse Stage Box Office, 315-443-3275 or http://www.SyracuseStage.org. Dramatized by Adrian Mitchell (poet, novelist and playwright) with music composed by Shaun Davey (Tony nomination for James Joyce's "The Dead"), LWW will be directed by Linda Hartzell, who directed the show twice for Seattle Children's Theatre, where she has served as artistic director for 27 years.
"I love epic, timeless, ageless stories," says Hartzell, who believes the highly theatrical nature of the production holds an appeal that will be gratifying for all ages. "There's a lot of theatrical magic in here with some incredible puppets, a sleigh that moves across the stage and if not sleight of hand, huge appearances and disappearances that work on stage."
The 27-member cast includes professionals from around the country and SU Drama students earning points toward membership in the Actors' Equity Association. Professional cast members include Jordan Barbour as Aslan (last seen at Syracuse Stage in "Rent"), Stephen Cross as Maugrim and Rumblebuffin, Jacquelyn Piro Donovan as the White Witch, James Judy as Professor Kirk and Father Christmas, Eric Leviton as Beaver, and Jayne Muirhead as Mrs. Beaver and Mrs. Macready. From the 21 student cast members, four will perform as the Pevensie children: Marie Eife as Susan, Charlo Kirk as Edmund, Jenaha McLearn as Lucy and Amos VanderPoel as Peter.
As one of Syracuse Stage's largest productions to date, LWW requires full use of Stage's resident shops to create the beauty and magic of Narnia. In the scenery construction shop, more than nine tons of counterweight will be used to support the flown-in scenery and lights, two five-horsepower motors will drive the automated scenery and six pneumatic cylinders are used to control special effects. In the costume shop, technicians have produced 75 costumes and 20 headpieces from fabrics that range from neoprene, foam, spandex, plastic, metal and weed whacker line, to wool and silk. In the props shop, all props were custom-built including large-scale items such as a stove, a fireplace, a throne, a chandelier made of steel and plexiglass and a self-propelled Witch's sledge.
In addition, just for this production, Syracuse Stage has contracted a master puppet builder, who will bring to life various creatures of Narnia, including an eagle, centaur, bat, squirrels, stretchy and snozy bosch.
A photo gallery of set models and costume renderings may be viewed here: http://www.flickr.com/photos/syracusestage/sets/72157627927636043.
Musically, the show requires nine musicians playing keyboards, clarinet, bass clarinet, violin, flute, piccolo, recorder, percussion, trumpet, tenor horn, guitar and acoustic bass. Lush and symphonic, the songs borrow from traditional Irish music. Musical director for the show is Dianne Adams McDowell, whose previous Syracuse Stage credits include "West Side Story," "Fiddler on the Roof" and "Little Women."
Sponsors are Excellus BlueCross BlueShield, HSBC, Hiscock & Barclay and Residence Inn Marriott. Media sponsors are Eagle Newspapers, Syracuse.com, WAER and WCNY. Syracuse Stage's 2011-2012 season sponsor is The Post-Standard.