Taye Diggs '93 and Shane Evans '92 to sign copies of their children's book as part of Orange Central
Television, film and stage actor Taye Diggs '93, a drama alumnus of Syracuse University's College of Visual and Performing Arts, is also a father with an important message for his young son, as well as other kids who may feel a little different from their peers. With his new picture book "Chocolate Me!" (Feiwel & Friends, 2011), Diggs wants to encourage kids to "appreciate their differences and celebrate them with a healthy sense of self-esteem.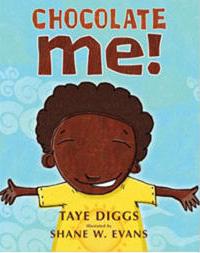 Diggs, along with "Chocolate Me!" illustrator Shane W. Evans '92, an illustration alumnus of VPA, will sign copies of their book on Saturday, Nov. 12, at the SU Bookstore in the Hildegarde and J. Myer Schine Student Center, as part of Orange Central. The book signing will be from 2:30-3:30 p.m.
"Chocolate Me!" will be available for purchase at the SU Bookstore.
Orange Central 2011 takes place Nov.10-13 on the SU campus and includes reunions, special events and Homecoming, all rolled into one exciting weekend.
Diggs and Evans will join SU alumni Scott Pitoniak '77, George Hauer '60, London Ladd '06 (artist,illustrator), Rick Burton '80, Warren Kimble '57