Syracuse Public Artist in Residence unveils work at Onondaga Creekwalk
Syracuse Public Artist in Residence Brendan Rose G'10, an alumnus of Syracuse University's School of Architecture, will unveil his public artwork titled, Walt, the Loch West Monster. The sculpture will be unveiled at "The Molting of Walt," on Friday, Nov. 11, at 12:30 p.m. on the Onondaga Creekwalk between W. Fayette St. and Walton St. in Armory Square.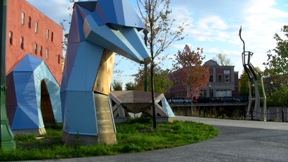 The event will formally mark the completion of the sculpture that Rose began in late spring of 2011. The sculpture is of a mythical creature, taking the form of a large metal serpent, which serves to call attention to the important relationship between Onondaga Creek and the City of Syracuse. SU students from the College of Visual and Performing Arts' Industrial and Interaction Design program, and members of the community assisted Rose in the design and construction of the installation of the sculpture.
The serpent's name was chosen among hundreds of entries submitted via an online contest. Jeff Nadge and Chris Deferio won the naming contest.
The celebration of "The Molting of Walt" will continue the evening of Nov. 11 when the Syracuse Public Artist in Residence (SPAR) project hosts an installation completion party at the SPAR-Space, located in the State Tower Building at 109 S. Warren St. Tickets are $20 and are available at the door. For more information, visit www.installsyracuse.org or find the SPAR on Facebook.
In his appointment as SPAR, Rose, an artist and architect, is working on two public art projects. Walt, the Loch West Monster, is Rose's first completed project. He continues working on the second project, which has not yet been revealed. With funding from a grant for public art provided by the Empire State Development Corp., the Connective Corridor will cover labor and material costs for Rose's public art pieces. Rose's second project, once completed, will also be placed along the Corridor.
The Syracuse Public Artist in Residence (SPAR) initiative is a partnership among the SyracUSE Connective Corridor, the Downtown Committee, and the 40-Below Public Arts Task Force. The SPAR changes each year and seeks to engage the public in a collaborative process to enliven Syracuse with a variety of art forms. More information can be found on www.installsyracuse.org, or you may contact Rose at rose.brendan@gmail.com or 315-882-3561.