'Emilio Sanchez: No Way Home' at SUArt Galleries
The SUArt Galleries will present "Emilio Sanchez: No Way Home, Images of the Caribbean and New York City," opening Dec. 1 and on view until March 18, 2012. The exhibition will feature 24 works by the Cuban American artist best known for his brightly colored, strongly shadowed paintings, prints and drawings of Caribbean and New York City architecture. The show highlights a recent gift to the University Art Collection from the Emilio Sanchez Foundation of more than 250 paintings, drawings and prints.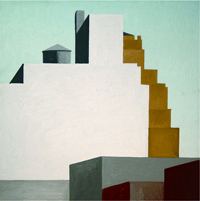 Sanchez (Camaguey, Cuba, 1921-New York, 1999) moved to New York from Cuba in 1944 to take art classes at Columbia and by 1952 decided to relocate there. His early pictures were inspired by the landscape surrounding his father's plantation in Cuba and described cane fields dotted with palm trees or working-class residences and villages. Apparent in them is an interest in pattern, color and strong lighting contrasts that came to characterize his mature style.
Sanchez was well aware of the New York School and its preference for abstraction, but his was a more conservative style grounded in a Caribbean palette and architectural geometry. From the 1960s onward, his colors were often as bright and striking as any contemporary. In the region's islands Sanchez found light, landscape and architecture that engaged his eye and compelled him to make pictures that transformed elements of each into modern geometric images saturated with color.
The SUArt Galleries are open Tuesday through Sunday from 11 a.m.-4:30 p.m., and Thursday from 11 a.m.- 8 p.m. It is closed on Monday. For more information, contact the SUArt Galleries at 443-4097, or by email at suart@syr.edu.