'Set in Stone' exhibit will chronicle history of Pan Am 103 cairn at Arlington
The Pan Am 103/Lockerbie Air Disaster Archives will present "Set in Stone: Constructing the Arlington Memorial Cairn" in the Hendricks Chapel Noble Room from Friday, Nov. 4, through Wednesday, Dec. 21.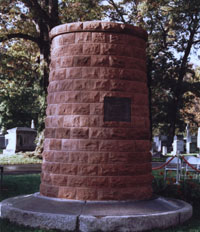 The exhibit presents the history of the Arlington Cemetery Memorial Cairn, which was built in remembrance of the 270 people—including 35 students in Syracuse University's study abroad program—who died in the terrorist bombing of Pan Am Flight 103 over Lockerbie, Scotland, on Dec. 21, 1988.
In remembrance of the victims, 270 blocks of red sandstone were mined from a quarry near the village and sent to the United States by the people of Lockerbie. The blocks, each one representing a victim, were transformed into a cairn, a traditional Scottish symbol of remembrance.
After diligent lobbying efforts by the Victims of Pan Am Flight 103 (VPAF 103) group, a permanent place for the cairn was secured in Section 1 of Arlington National Cemetery. The design was approved by the Commission of Fine Arts in 1994 and the cairn was completed in 1995. It was dedicated in a ceremony on Nov. 3, 1995, attended by then President Bill Clinton and Hillary Clinton, family members and friends, Scottish and American police officers and investigators and residents of Lockerbie.
For more information on the cairn or the Pan Am 103/Lockerbie Air Disaster Archives, visit archives.syr.edu/panam.