Orange Central welcomes alumni and friends with full slate of events, traditions
Syracuse University's Orange Central celebration features a weeklong roster of student events and culminates with an expanded Homecoming + Reunion, Nov. 10-13, creating the one and only destination for everyone who "bleeds Orange."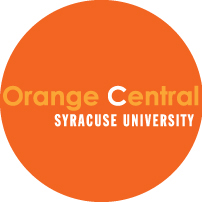 The Orange Central celebration features an array of special events that will appeal to not only alumni, but also current students, faculty, staff and the entire community. Programs open to the public include many Showcase events, and free parking is available at a number of locations throughout campus.
Coinciding with this year's Orange Central is the University's Veterans Day recognition events, as well as SU's annual Remembrance Week, which honors the victims of Pan Am Flight 103. Remembrance Week activities include the Rose-Laying Ceremony Friday, Nov. 11 at 2 p.m., and the annual convocation that follows in Hendricks Chapel.
And punctuating this year's Orange Central is a football game on Friday evening against the University of South Florida, and both men's and women's regular season basketball games in the Carrier Dome.
Serving as co-chairs for Orange Central 2011 are author, clothing designer and women's health advocate Emme '85; CBS News journalist and anchor Jeff Glor '97; and Roosevelt "Rick" Wright G'93, professor in the S.I. Newhouse School of Public Communications.
Alumni can register for Orange Central at http://orangecentral.syr.edu. For questions, contact the Office of Alumni Relations at 1-800-SUALUMS (782-5867), or email orangecentral@syr.edu.  Non-alumni attendees are asked to RSVP to events by sending an email to orangecentral@syr.edu.
Students build the spirit
SU students begin the preparation for Orange Central with many early-week activities designed to build the Orange spirit, including campus decorating, concert performances and Slice of Orange Days. For a full schedule of student activities, visit: http://syr.orgsync.com/OrangeCentral. Among the performances is a headline show by Rapper Lil' B, the first of University Union Concerts' Bandersnatch Music Series. The show is Wednesday, Nov. 9, and opening acts include up-and-coming hip-hop artist Tayyib Ali and a student act. Tickets are available at the Schine Box Office.
Students also play a big role in organizing the annual Orange Central parade, which this year begins at 4 p.m., Friday Nov. 11 from the Schine Student Center, traveling throughout the University area and returning to the Kenneth A. Shaw Quad. The festivities also include the Orange Central Pep Rally at 5 p.m., Friday, in Hendricks Chapel.  
Something for everyone who "bleeds Orange"
In addition to special group reunions, among the highlights of Orange Central events are:
The Institute for Veterans and Military Families
Ribbon-cutting and dedication: 1 p.m., Tuesday, Nov. 8
Open House: 1-3 p.m., Friday, Nov. 11
700 University Avenue
The Institute for Veterans and Military Families at Syracuse University will celebrate its founding and dedicate its physical location on campus with a ribbon-cutting ceremony and public open house during the week of Orange Central and Veterans Day. Launched in June 2011 by founding members Syracuse University and JPMorgan Chase & Co., the IVMF is built on the University's longstanding commitment to our nation's veterans and service members. It is the first national center in higher education focused on the social, economic, education and policy issues impacting veterans and military families post-service.
Trustee Installation Ceremony
4:30–6:15 p.m., Thursday, Nov. 10, Setnor Auditorium, Crouse College
Join us for this special annual ceremony where Syracuse University's newest trustees—elected this past spring—are formally installed. The ceremony is open to Orange Central guests and the public.
One-on-One with Sean O'Keefe and Jeff Glor: Service, Strategy, and Space
8 p.m., Thursday, Nov. 10, Joyce Hergenhan Auditorium, Newhouse 3
National security expert and former NASA administrator Sean O'Keefe G'78 will talk with journalist and CBS News correspondent Jeff Glor '97 about his unique experiences in both the public and private sectors. O'Keefe is CEO of EADS North America, a global leader in aerospace, defense and related services. Glor was named news anchor of CBS News' "The Early Show" in November 2010. Previously, he served as the anchor of the Saturday edition of the "CBS Evening News" and a national correspondent for all CBS News broadcasts since February 2009. Alumni may recall Glor's news days in Syracuse as co-anchor and morning news anchor at WSTM-TV.
Pioneering Innovation for Sustainability: Food, Shelter, and Community. A Conversation with Rick Fedrizzi and Oren Lyons
Doors open at 8 a.m.; program begins at 9 a.m., Friday, Nov. 11, Syracuse Center of Excellence, 727 East Washington St.
Central New York is increasingly becoming a nation-leading community in embracing sustainable development, research and practices. International leaders and advocates for sustainability—and Central New York residents—Rick Fedrizzi G'87, president, CEO, and founding chair of the U.S. Green Building Council; and Onondaga Nation Chief Oren Lyons '58, H'93 will field questions from the audience in an open dialogue about environmental stewardship, economic vitality, social equality and global citizenship.The program will be moderated by Shere Abbott, SU vice president for sustainability initiatives and University Professor of Sustainability Science & Policy.
From Sherlock Holmes to CSI: Fighting Crime and Terrorism with Science
3–4 p.m., Friday, Nov. 11, Breed Hall, 105 Life Sciences Complex
Syracuse University has the nation's first program that comprehensively focuses upon research and teaching in forensic and national security sciences. Learn how Syracuse University's new Forensic and National Security Sciences Institute (FNSSI) is using education and research to combat terrorism. This panel discussion will feature FNSSI's James T. Spencer, Michael B. Sponsler, and Kevin S. Sweder.
Orange Central Bash featuring the Orange Circle Awards
5:30 p.m., Friday, Nov. 11, Goldstein Auditorium, Schine Student Center
This is the biggest party at Orange Central and it's free and open to all! Join host Emme '85 for a festive evening spent mingling with fellow alumni, students, faculty and staff. Enjoy refreshments and a DJ, then applaud this year's Orange Circle Award recipients.
Breakfast with the Deans
9 a.m., Saturday, Nov. 12, Milton Atrium in the Life Sciences Complex
Join all the deans for this first ever all-inclusive Breakfast with the Deans. Mingle with fellow alumni, students, and staff from the schools and colleges while enjoying a complimentary continental breakfast. Reservations required. The event is co-sponsored by Liberty Mutual.
Is the Best Defense a Good Offense? The Ethics and Politics of Allowing Judges to Advocate Controversial Views
9:30–10:30 a.m., Saturday, Nov. 12, Tirico Room (250), Newhouse 3
Would judges better serve the cause of judicial independence if they openly aired their personal views? Join a panel discussion featuring the Hon. Joanne F. Alper '72 alumna, trustee, and sitting judge; and Charles Gardner Geyh, John F. Kimberling Professor of Law at Indiana University's Maurer School of Law and one of the nation's leading authorities on judicial ethics. The discussion will be moderated by Keith J. Bybee, the Paul E. and The Honorable Joanne F. Alper '72 Judiciary Studies Professor at the College of Law, and director of the Institute for the Study of the Judiciary, Politics and the Media at Syracuse University. The event is co-sponsored by the Tully Center for Free Speech in the Newhouse School.
Dream Big: Let Go of Negative Self-Speak and Live the Life You Desire
10 a.m., Saturday, Nov. 12, Joyce Hergenhan Auditorium, Newhouse 3
Interested in finding ways to live a healthy, balanced life in today's busy world? Attend this candid discussion featuring former supermodel Emme '85, a two-time People magazine "50 Most Beautiful
People" honoree, and Nicole Glor '99, national fitness guru and entrepreneur. Emme is an author, lecturer, clothing designer and nationally recognized advocate for positive body image and self-esteem.
Glor, a regular fitness expert on "FOX and Friends" and the star of seven fitness DVDs, is an AFAA-certified personal trainer, as well as a sought after fitness and yoga instructor.
The Legacy of Burton Blatt: Advancing the Rights of People with Disabilities from SU's Campus to Around the Globe
11 a.m.–noon, Saturday, Nov. 12, 321 Crouse Hinds Hall, Burton Blatt Institute
Hear from guest speakers Peter Blanck, University professor and institute chairman; Matthew Saleh L'11; and Brandon Sawyer L'11 about how the Burton Blatt Institute's partnerships and collaborations have led to measurable and positive impact for people with disabilities. Saleh and Sawyer will share their experiences working as disability researchers. Launched at Syracuse University in 2005, the Burton Blatt Institute builds on the legacy of Burton Blatt—former dean of SU's School of Education and a pioneering disability rights scholar—to better the lives of people with disabilities.
12:30 p.m., Saturday, Nov. 12, Goldstein Auditorium, Schine Student Center
This luncheon hosted by Orange Central co-chair Jeff Glor '97, celebrates all returning alumni and honors this year's George Arents Award recipients. The George Arents Award is SU's highest alumni honor, created to recognize alumni who are pioneers and leaders in their fields. The award ceremony will honor this year's recipients the Hon. Joanne F. Alper '72, S. Richard Fedrizzi G'87, Oren R. Lyons '58, H'93, and Sean C. O'Keefe G'78. Reservations are required; visit http://orangecentral.syr.edu.
Alumni Book Signing
2:30–3:30 p.m., Saturday, Nov. 12, SU Bookstore
Scott Pitoniak '77, George Hauer '60, London Ladd '06 (artist, illustrator), Rick Burton '80, Warren Kimble '57 and Sandra Caron G'86 will sign copies of their books during Orange Central. Also participating in the book signing are television, film and stage actor Taye Diggs '93, and illustrator Shane W. Evans '92—both VPA alumni—who will be signing copies of their children's book "Chocolate Me!"
Athletics
Cheer on the Orange during Orange Central as several SU athletics teams host Big East and inter-conference competition, including a football game against the University of South Florida, a men's basketball game against Fordham University, a women's basketball game against Long Beach State, and two weekend women's volleyball matches. For times and ticket information, visit http://www.syr.edu/alumni/events/orangecentral/athletics.html.
For full information on Orange Central 2011, visit: http://www.syr.edu/alumni/events/orangecentral/index.html.