Emme '85 to host Orange Central Bash with presentation of 2011 Orange Circle Awards
The altruistic efforts of Syracuse University alumni, friends, faculty, staff and students will be recognized during the presentation of the 2011 Orange Circle Awards at this year's Orange Central Bash on Friday, Nov. 11. The event will be hosted by SU alumna Emme '85, co-chair of Orange Central 2011.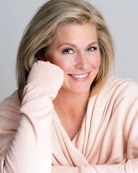 The Orange Central Bash is the pinnacle, "biggest party of Orange Central" event, which this year leads up to the evening football game against South Florida. Beginning at 5:30 p.m. in Goldstein Auditorium at the Hildegarde and J. Myer Schine Student Center, the festive Orange Central Bash and Orange Circle awards presentation will feature food and live entertainment, and it is free and open to the public.
The general public is asked to RSVP by sending an email to orangecentral@syr.edu; SU alumni can register online at http://orangecentral.syr.edu. 
The University's Orange Central celebration takes place Nov. 10-13 on the SU campus and includes special group reunions, a salute to veterans and Homecoming, all rolled into one exciting weekend.
Emme is a successful supermodel, television personality, author, lecturer, creative director for her clothing lines and nationally recognized women's advocate for positive body image and self-esteem. People magazine selected her twice as one of the "50 Most Beautiful People" and Ladies' Home Journal chose her as one of the "Most Important Women in America" and one of the "Most Fascinating Women of the Year." 
2011 Orange Circle Awards

Recipients of the 2011 Orange Circle Awards reflect the University's long heritage of inclusive education and disability rights, sustainability and support for our nation's veterans. The awards represent a thank you to those who put their passions to work for the common good, and the ceremony during Orange Central is an opportunity to celebrate and honor these individuals.
Recipients were selected by a cross-campus group of alumni, students, faculty and staff in consultation with the SU National Alumni Association Board. Additional information regarding nomination criteria is available at http://www.syr.edu/alumni/awards/Orange-Circle-Award.html.
This year's recipients are:
Beyond Compliance Coordinating Committee. The Beyond Compliance Coordinating Committee (BCCC) is recognized for its tremendous commitment in creating a more supportive, inclusive campus that engages disability as a form of diversity. BCCC is an organization composed of SU students, and hinges on the viewpoint that compliance with the law is only a starting point for the campus community.
SU/ESF Habitat for Humanity. SU/ESF Habitat for Humanity is recognized for its ongoing commitment to the Syracuse community through contributions of time, talent and a dedication to building affordable housing in the Syracuse area. Recognized by Habitat International as one of the top three campus chapters in the United States for the 2009-10 academic year, SU/ESF Habitat for Humanity continues to be an organization that takes leadership and philanthropy seriously, and is a valuable learning experience. SU/ESF Habitat for Humanity has built five homes in the Syracuse community and more than 110 students volunteer during their school breaks. This organization has received more than 27 awards, both locally and nationally, over the past 15 years.
Marc Klein '03. Klein is recognized for his tireless effort in forming the James Lyons '03 Sons and Daughters Memorial Scholarship Fund, for students of fallen or disabled U.S. veterans. In 2005, Klein approached the University about establishing a scholarship in memory of his fraternity brother, James Lyons, who was killed in Iraq by an improvised explosive device. Klein was interested in giving back to SU, but wanted it to be personally meaningful and have an impact. The James Lyons '03 Sons and Daughters Memorial Scholarship Fund was established in 2006. With Klein's dedication to the fund, he has helped raise the $50,000 minimum required to endow the scholarship. More than 235 alumni have contributed to the fund and Klein continues to selflessly give his time and energy to build the endowment, which supports students of fallen or disabled U.S. veterans, providing them with scholarships to SU.  This year the first award was made, just six years since the tragic loss of Lyons. Klein is an alumnus of the Martin J. Whitman School of Management. Lyons was an alumnus of The College of Arts and Sciences.
Peter G. King '77. King is being recognized for his commitment to the Syracuse community and his lead role in infusing green initiatives into local building and development. As managing partner of King+ King Architects, LLP, he is recognized for being an innovator of green buildings and helping to rejuvenate Syracuse. King+King's downtown offices received LEED Platinum certification—the highest certification given by the U.S. Green Building Council—and was the first building in the City of Syracuse and Onondaga County to achieve this status. King established the offices in an economically challenged neighborhood and renovated the building to the LEED standards. He is an alumnus of the School of Architecture.
Orange Circle Award recipients will receive a custom-designed sculpture created by SU alumnus Peter Yenawine '69. The crystal award symbolizes philanthropy's ever-widening circle of impact and ripple effect of change.
For more information on Orange Central and an up-to-the-minute schedule of events and activities, visit http://orangecentral.syr.edu, or email orangecentral@syr.edu.