Open Enrollment ends this Friday
The annual period for Syracuse University employees to enroll for benefits or update their current choices—known as Open Enrollment—ends Friday. Thursday and Friday are the final days for faculty, staff, graduate assistants and fellows, and part-time instructors eligible for benefits, to elect or change their coverage, unless they undergo a qualifying life event during the year.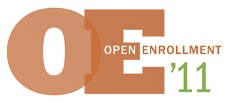 All choices will be in effect from Jan. 1-Dec. 31, 2012.
Open Enrollment is conducted online through MySlice at http://myslice.syr.edu.
Human Resources will be open from 7:30 a.m.-6:30 p.m. Thursday and Friday to provide computer assistance and answer benefit questions. Computer kiosks are available at the Human Resources Skytop Office Building to provide additional access for online enrollment. Employees may visit the HR office or call 443-4042 with questions.
Complete information about the Open Enrollment process, employees' benefit options, and how to enroll is available at the Open Enrollment web site: http://openenrollment.syr.edu.