Campus & Community
Open Enrollment begins today; all those eligible for benefits are encouraged to participate
The annual period to enroll in benefits or update current elections—known as Open Enrollment—begins today, and continues through Nov. 18. This is the only time of the year when faculty, staff, GAs/fellows and part-time instructors who are eligible for benefits may elect or change their coverage, unless they undergo a "qualifying life event."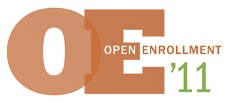 Those who do not wish to make changes to the benefits they elected last year do not need to actively affirm their choices this year, with the exception of the fexible spending accounts, for which contributions must be elected annually. All SU employees are encouraged to take this opportunity to review their benefits, familiarize themselves with plan changes and choose the best options for themselves and their families.
All choices will be in effect from Jan. 1-Dec. 31, 2012.
Complete information about the Open Enrollment process, benefits options and how to enroll is available at the Open Enrollment website: http://openenrollment.syr.edu.
Open Enrollment through MySlice
Open Enrollment is conducted online through MySlice, at http://myslice.syr.edu. To access the site, employees need to enter their MySlice NetID and password (for login assistance, visit Information Technology and Services at http://its.syr.edu/netid, or call 443-2677).
Computer kiosks are available at the Human Resources Skytop Office Building to provide additional computer access for online enrollment. The hours are 8:30 a.m.-5 p.m. Monday-Friday during Open Enrollment, with extended hours (7:30 a.m.-6:30 p.m.) on Nov. 17 and 18.
Computer access also is available at the ITS public computer labs and email stations across campus. For a complete list of locations with hours, visit http://its.syr.edu/itsmap/index.html.