Arts & Culture
Children's touring production 'New Kid' to have additional public performances Dec. 3 and 10 at Syracuse Stage
Public performances of this year's Bank of America Children's Tour "New Kid," produced by Syracuse Stage and the Department of Drama in Syracuse University's College of Visual and Performing Arts (VPA), will be held at noon on Dec. 3 and Dec. 10 in the Storch Theatre at 820 E. Genesee St. All seats are $5 and can be purchased by calling the Box Office at 315-443-3275. "New Kid," which is 45 minutes in length, is recommended for all ages.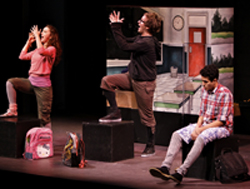 Having quickly sold out its regular touring schedule, "New Kid" has been well received at schools and organizations across Central New York for addressing important and relevant topics with humor and fun. "Outstanding!" says Gina Sherlock, a teacher in Mexico, N.Y. "Thank you for bringing diversity and culture to our community."
"New Kid" promotes tolerance, compassion and addresses racism, prejudice, peer pressure and conflict resolution from the perspective of Nick, who recently immigrated to America from a country called Homeland and is struggling with a new language and a new way of life. The kids at his new school make fun of him because of his customs and strange language. The twist is that the Americans speak a kind of gibberish that neither Nick nor the audience understand.
"'New Kid' is an uncomplicated, dutifully heartwarming play that chronicles Nick's eventual mastery of a new language, his triumph over schoolyard bullies and his acquisition of a friend, Mench, who learns to be culturally sensitive," says the Washington Post.
Performed in striking visual terms, "New Kid" offers an extraordinary opportunity for families to share a rich theatrical experience. The director, designers, performers and production crew are students and professionals from Syracuse University's Department of Drama and Syracuse Stage.