Live webstreaming and Twitter feeds complement Orange Central
During Orange Central 2011, Nov. 10-13, you can follow along with many of the events via Twitter, and also tune into your computer to view live webstreaming of two Orange Central Showcase events.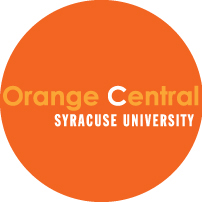 The general Twitter hashtag that can be used throughout Orange Central is #OrangeCentral, in addition to Syracuse University's always active official Twitter account @SyracuseU.
And Twitter users can access the action of several Orange Central events using the following hashtags: 
#GlorOKeefe (and Glor @jeffglor)
One-on-One with Sean O'Keefe and Jeff Glor: Service, Strategy and Space
8 p.m. Thursday, Nov. 10, Joyce Hergenhan Auditorium, Newhouse 3
National security expert and former NASA administrator Sean O'Keefe G'78 will talk with journalist and CBS News correspondent Jeff Glor '97 about his unique experiences in both the public and private sectors. O'Keefe is CEO of EADS North America, a global leader in aerospace, defense and related services. Glor was named news anchor of CBS News' "The Early Show" in November 2010. Previously, he served as the anchor of the Saturday edition of the "CBS Evening News" and a national correspondent for all CBS News broadcasts since February 2009. Alumni may recall Glor's news days in Syracuse as co-anchor and morning news anchor at WSTM-TV. 
#FedLyons (and Fedrizzi @rickfedrizzi)
Pioneering Innovation for Sustainability: Food, Shelter, and Community. A Conversation with Rick Fedrizzi and Oren Lyons
Doors open at 8 a.m.; program begins at 9 a.m. Friday, Nov. 11, Syracuse Center of Excellence, 727 E. Washington St.
Central New York is increasingly becoming a nation-leading community in embracing sustainable development, research and practices. International leaders and advocates for sustainability—and Central New York residents—Rick Fedrizzi G'87, president, CEO, and founding chair of the U.S. Green Building Council; and Onondaga Nation Chief Oren Lyons '58, H'93 will field questions from the audience in an open dialogue about environmental stewardship, economic vitality, social equality and global citizenship.The program will be moderated by Shere Abbott, SU vice president for sustainability initiatives and University Professor of Sustainability Science & Policy.
Is the Best Defense a Good Offense? The Ethics and Politics of Allowing Judges to Advocate Controversial Views
9:30–10:30 a.m. Saturday, Nov. 12, Tirico Room (250), Newhouse 3
Would judges better serve the cause of judicial independence if they openly aired their personal views? Join a panel discussion featuring the Hon. Joanne F. Alper '72 alumna, trustee and sitting judge; and Charles Gardner Geyh, John F. Kimberling Professor of Law at Indiana University's Maurer School of Law and one of the nation's leading authorities on judicial ethics. The discussion will be moderated by Keith J. Bybee, the Paul E. and The Honorable Joanne F. Alper '72 Judiciary Studies Professor at the College of Law, and director of the Institute for the Study of the Judiciary, Politics and the Media at Syracuse University. The event is co-sponsored by the Tully Center for Free Speech in the Newhouse School.
#DreamBigEmme (and Emme @emmenation)
Dream Big: Let Go of Negative Self-Speak and Live the Life You Desire
10 a.m., Saturday, Nov. 12, Joyce Hergenhan Auditorium, Newhouse 3
Interested in finding ways to live a healthy, balanced life in today's busy world? Attend this candid discussion featuring former supermodel Emme '85, a two-time People magazine "50 Most Beautiful People" honoree, and Nicole Glor '99, national fitness guru and entrepreneur. Emme is an author, lecturer, clothing designer and nationally recognized advocate for positive body image and self-esteem. Glor, a regular fitness expert on "FOX and Friends" and the star of seven fitness DVDs, is an AFAA-certified personal trainer, as well as a sought-after fitness and yoga instructor.
Live webstreaming
Two Orange Central Showcase events will be webstreamed live and can be accessed at http://ocevents.syr.edu.
One-on-One with Sean O'Keefe and Jeff Glor: Service, Strategy and Space begins at 8 p.m. Thursday, Nov. 10;
Pioneering Innovation for Sustainability: Food, Shelter and Community. A Conversation with Rick Fedrizzi and Oren Lyons begins at 9 a.m., Friday, Nov. 11.
Orange Central 2011 takes place Nov.10-13 on the SU campus and includes reunions, special events and Homecoming, all rolled into one exciting weekend. For more information on Orange Central and an up-to-the-minute schedule of events and activities, visit http://orangecentral.syr.edu. For questions, contact the Office of Alumni Relations at 1-800-SUALUMS (782-5867) or e-mail orangecentral@syr.edu.