Kronos Quartet performs in weeklong residency at SU Nov. 7-13
Syracuse University's Arts.Engage welcomes the Kronos Quartet for a weeklong residency, Nov. 7-13. The residency will include workshops, film screenings, talkbacks and a concert. The residency coincides with the Music Critics Association of North America (MCANA) Institute, Nov. 6-9, at the S.I. Newhouse School of Public Communications.
The schedule for Kronos Quartet includes:
Tuesday, Nov. 8, "Requiem for a Dream" film screening and talkback with Newhouse Professor Douglas Quin and members of Kronos Quartet at 7 p.m. at the Joyce Hergenhan Auditorium, Newhouse 3.
Wednesday, Nov. 9 at 7 p.m. in Setnor Auditorium, Crouse College, Professor Theo Cataforis will offer a pre-concert lecture before Kronos Quartet performs at 8 p.m. The full-length concert will feature the world premiere of Douglas Quin's Polar Suite, 2011 (commissioned by the Kronos Quartet), soundscape recordings from the polar regions of the earth and outer space, processed samples, plus interactive electronics involving the revolutionary human/machine interface: the K-Bow Bluetooth Sensor Bow Control by Keith McMillen (also commissioned by the Kronos Quartet).
Thursday, Nov. 10, the Kronos Quartet will appear in Bandier's Soyars Leadership Lecture Series at 6:45 p.m. in Room 007 in Lender Auditorium, Whitman School of Management.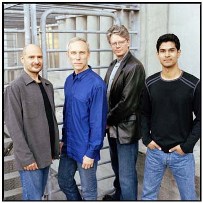 "I invited Kronos Quartet to Syracuse University because I see them as a beautiful crossover in different fields: technical, musical, historical," says Carole Brzozowski, University arts presenter. "It's a classically-based quartet with a standing in pop culture that makes them a topic of discourse on our campus."
The Kronos Quartet of David Harrington, John Sherba, Hank Dutt, and Jeffrey Zeigler has pursued a singular artistic vision, combining a spirit of fearless exploration with a commitment to expanding the range and context of the string quartet, for more than 30 years. Kronos has become one of the most celebrated and influential groups of our time, performing thousands of concerts worldwide, releasing more than 45 recordings of extraordinary breadth and creativity, collaborating with many of the world's most eclectic composers and performers, and commissioning more than 750 works and arrangements for string quartet. In 2011, Kronos became the only recipients of both the Polar Music Prize and the Avery Fisher Prize, two of the most prestigious awards given to musicians. No other musician or ensemble has ever won both prestigious prizes, let alone in a single year. The group's numerous awards also include a Grammy for Best Chamber Music Performance (2004) and "Musicians of the Year" (2003) from Musical America.
MCANA was founded in 1956 and is the only North American association devoted solely to professional classical music critics. Current members include all of the critics at the New York Times, regular contributors to the Wall Street Journal, primary critics at the Baltimore Sun, Chicago Tribune, Cincinnati Enquirer, Cleveland Plain Dealer, Dallas Morning News, San Francisco Chronicle, Washington Post, as well as leading online publications like Musicalamerica.com, NewMusicBox, program annotators and radio producers. The organization is a member of the National Music Council. MCANA Institutes are educational seminars to promote high standards of music criticism. Foundation support over the years has included grants from the Ford Foundation, the Corbett Foundation, and in-kind support from the Van Cliburn Competition, the Juilliard School, Kimmel Center for the Performing Arts, Lincoln Center and the Luminato Toronto Festival of Arts & Creativity.
Arts.Engage is part of Syracuse University's Office of the Arts Presenter, which engages and inspires audiences through diverse performance art. For more information about the full 2011-2012 schedule, visit http://facebook.com/SUartsengage, and contact Leah Stacy at (585)749-2947 or lrstacy@syr.edu.