Student entrepreneur's unique apparel with positive message is showcased at local retailer
Originally created as a class project, the Peace Tee was born in April 2010, when Whitman School of Management minor and College of Visual and Performing Arts major James Barrett, a student/artist, designed the now-iconic image of a peace sign for a class project at Syracuse University. After receiving compliments and orders from classmates and friends, Barrett decided to make the Peace Tee an official company, James Barrett Co., featuring original graphic apparel with a positive message.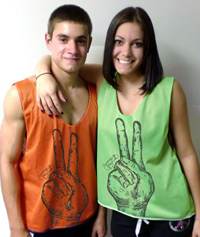 The company's signature item features a hand-drawn peace sign, boldly printed onto the front of a T-shirt. Since the company's inception, it has branched out to include varieties of the signature peace sign, printed on short- and long-sleeve T-shirts, glow-in-the-dark shirts and lacrosse pinnies. Barrett says he even plans to roll out a holiday edition in a variety of styles. Recently, James Barrett Co. made a breakthrough in the retail business, and the products are now carried by J. Michael Shoes, a high-end clothing store located on Syracuse's Marshall Street.
"It feels good to know when your hard work has paid off, but this is just the beginning. I plan to create new designs and continue to grow and evolve the company," says Barrett. In addition to moving into the retail segment, Barrett recently launched a national campus representative campaign, in an effort to expand the business to other universities and regions across the country.
"Showcasing and selling product in store is the real market research for testing consumer acceptance," says Amanda Nicholson, professor of retail practice in the Whitman School and Barrett's business mentor. "By generating consumer interest in a store such as J. Michael, which is heavily shopped by students, James is able to test his product and get an immediate read on the consumer response."
To date, the company has sold more than 2,000 T-shirts in 25 states across the United States, has more than 3,000 fans on Facebook and was honored with the award for creative excellence in the 2011 cross-campus Panasci Business Plan Competition, hosted by Whitman. Barrett plans to enter the Panasci Competition again, in hopes of winning seed money to help grow his company, ultimately making the James Barrett brand a household name.
In addition to his regular merchandise, James Barrett Co. offered a special edition tee called "Rise Above," in an effort to raise awareness about texting while driving. A portion of the proceeds went directly to the Remember Alex Brown Foundation.
For more information, visit the Facebook fan page at http://facebook.com/jamesbarrettco.