Italian architects Cappai, Segantini to lecture at Syracuse Architecture
Carlo Cappai and Maria Alessandra Segantini, partners in award-winning Treviso, Italy, design studio C+S Associati, will lecture at the Syracuse University School of Architecture on Tuesday, Nov. 15, at 5 p.m. in Slocum Hall Auditorium. Their lecture, "Translation Architecture," is free and open to the public.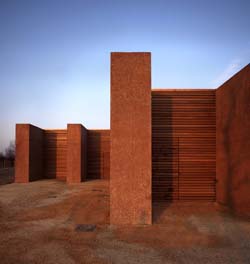 Segantini is Syracuse Architecture professor of practice for the fall 2011 semester, a position that balances teaching with practice in architecture, urban design and landscape architecture, and engages students in projects related to progressive and research-based design and construction.
C+S Associati offers a full range of architectural design services internationally, including masterplanning and interior design for private and public sectors. Working on the integration of architecture, urban design, landscape architecture and ecology, the firm has developed an extensive catalogue of architectural and urbanistic strategies that aim to minimize the view of architecture as an object and expression of financial power. Rather, they follow a process of "melting" architecture into the landscape and "translating" into a more contemporary, sustainable design. In turn, the studio's experimental work is complemented by a series of smaller-scale, realized projects that exhibit precision in detailing, formal restraint and spatial invention.
C+S has won many important international competitions for public and private buildings, including Cinema Festival Palace in Venice, Policlinic Hospital in Milan, and a housing complex in Japan. Their projects have been published in several international architectural publications: Abitare (Italy), AD (Great Britain), Area (Italy), A+U (Japan), Bauwelt (Germany), Casabella (Italy), D'Architettura (Italy), Detail (Germany), L'Architecture d'Aujord'hui (France), Loggia (Spain), and Spazio e Societa (Italy). Work has been exhibited widely, including in the Eighth Biennale of Architecture in Venice.