Introducing candidates for king of 2011 Homecoming Court
The Homecoming Court Selection Committee has announced the 2011 Syracuse University Homecoming Court. This longstanding tradition is just one of many activities that takes place during SU's annual Homecoming event, Orange Central. Voting for this year's king and queen began Monday, and closes at noon on Friday, Nov. 11. The winners will be announced on Friday at the Homecoming Pep Rally in Hendricks Chapel. To vote, visit http://homecomingcourt.syr.edu. Anyone with an active SU Net ID can vote.
Members of the full court are seniors: Firdaus Arastu, Samantha Hay, Stephanie Jasuta, Anna Stolzenburg, Katie Walpole, Nicholas Deyo, Calvin Iverson, Lookman Mojeed, Alex Rogers and Darryl White.
CANDIDATES FOR 2011 HOMECOMING KING
Nicholas Deyo


Quote: "Otto says so—vote Nick Deyo!"
"Like many others, I have spent the last four years defining what being a student of Syracuse University is really about. Through my involvement with organizations like First Year Players, comm.UNITY, Jerk Magazine, Orientation Leaders and University 100, I have lent my passion and pride for my school to promote endeavors that continually shape the face of what Syracuse University is for every student."
Calvin Iverson


Quote: "If I could go back, I wouldn't change anything I've done here. I love SU!"
"I am more than a policy studies and public relations student. I am a mentor resident adviser, a Remembrance Scholar and the editor-in-chief of The OutCrowd magazine. I have used his passion for helping people to guide more than 160 residents through the first-year and sophomore year experience at SU."
Lookman Mojeed

Quote: "The new standard of Orange."
"I'm Lookman [loo'k-man], also known as Mira-Hombre in Spanish. A Nigerian prince from Brooklyn who came to Syracuse to shake things up. When I am not dancing, I'm at Bird studying to be a doctor or eating fried chicken at Funk 'N Waffles. Vote for me as your next hipster king."
Alex Rogers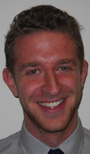 Quote: "This should be fun!"
"I am a senior advertising major in the Newhouse School with a minor in disability studies. I am currently the co-producer of First Year Players, a student lead for Student Centers and Programming Services and a Newhouse peer adviser and ambassador. I love the community that comes out of Syracuse University, and hope to welcome all the Orange alumni home this year!"
Darryl White


Quote: "Education is the passport to the future, for tomorrow belongs to those who prepare today."
Through the University 100, student judicial board and track and field team, my presence extends across the campus, giving me great joy. My pride and passion for representing the student body in addition to my personality and love for the University, combine to make me a worthy candidate for 2011 homecoming king, which would be an honor.
Get to know the candidates for 2011 Homecoming Queen: https://news.syr.edu/2011/11/08/introducing-candidates-for-queen-of-2011-homecoming-court.