GolinHarris chairman Al Golin to visit SU's Newhouse School Nov. 9
Al Golin, chairman of GolinHarris, will visit Syracuse University's S.I. Newhouse School of Public Communications on Wednesday, Nov. 9, as a guest of the public relations department. He will speak at 7 p.m. in the Joyce Hergenhan Auditorium in Newhouse 3. His talk is free and open to the public. Parking is available in SU pay lots. Follow on Twitter at #Golin.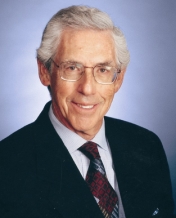 Golin has spent 50 years in the public relations industry. As a consultant to the U.S. Department of Commerce, he developed a major public relations campaign to increase U.S. companies' awareness of the benefits of exporting to help our economy, increase employment and reduce the trade deficit. He is the author of "Trust or Consequences: Build Trust Today or Lose Your Market Tomorrow." 
Golin is the recipient of several awards, including the Public Relations Society of America (PRSA)'s Gold Anvil Award; the Institute for Public Relations' Alexander Hamilton Medal; the Arthur W. Page Society Hall of Fame Award; and lifetime achievement awards from PRSA, the Publicity Club of Chicago and Inside PR magazine. He was named one of the 100 most influential public relations people of the 20th century by PR Week. 
He is a member of the board of trustees of The Goodman Theatre of Chicago and Roosevelt University and a founding board member of Ronald McDonald House Charities, and he serves as PR adviser to the National Multiple Sclerosis Society. He is also a member of the Arthur W. Page Society, the Public Relations Seminar and PRSA. 
Chicago-based GolinHarris has 34 offices around the world. In addition to handling the McDonald's account for over 50 years, the firm represents such companies as British Petroleum, Dow Chemical Co., Florida Department of Citrus, General Mills, GlaxoSmithKline, Kaiser Permanente, Johnson & Johnson, Nestle, Nintendo, Orange, Petsmart, Playtex, Sargento, Shire, Texas Instruments, Toyota, Unilever and Wal-Mart. 
For more information about his talk, contact Betsy Feeley at (315) 443-7401 or eafeeley@syr.edu.