Dulye Leadership Experience prepares students to stand out in tough job market
For every job opening today, there are more than five job seekers, according to the Bureau of Labor Statistics. What does it take to compete and win in the toughest job market in decades? Answers await at the Dulye Leadership Experience (DLE).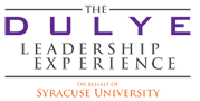 Syracuse University juniors and seniors of all majors are invited to apply for participation in the fifth annual Dulye Leadership Experience, being held March 30-April 1, 2012, in the Berkshires in western Massachusetts. Founded by Linda Dulye '77, a global expert in change management and employee engagement, the program helps undergraduates make the transition to the workplace. The application deadline is Saturday, Dec. 31. For more information and to apply, visit http://dle.dulye.com.
The DLE offers practical techniques, hands-on knowledge and professional networks to help SU students successfully transform from college graduate to workplace professional.
Dulye—a 1977 graduate of SU who began her change-management consultancy, Dulye & Co., in 1998, after leadership positions with GE, AlliedSignal and Duracell—wanted to zap the uncertainty that overwhelms many college students about their career future. "Students often narrow their job pursuits around their academic major. Most don't broaden their view about where or how their skills align with different industries or functional groups. And many don't fully tap into professional networks to showcase their capabilities and make connections," says Dulye, who customizes the program curriculum based on workplace realities and recruits its accomplished faculty. "The DLE helps students learn how to stand out from the pack in today's competitive job hunt and to demonstrate value every day on the job."
Dulye founded the DLE in 2008 with the support of SU's College of Arts and Sciences and Whitman School of Management. Nearly 60 students have completed the program and gone on to land jobs with JPMorgan Chase, General Electric, Fox News, GEICO, DRS Technologies, the U.S. Senate and other prestigious companies and organizations.
The program features one-on-one instruction, networking and discussions lead by a faculty of business executives, entrepreneurs and recognized experts—all from a variety of industries and organizations. Each faculty member volunteers his or her time during the weekend program, and after, as a mentor. Participants come from a highly competitive and diverse applicant pool representing all majors on campus. Selection is based on work/internship experience, community service, academic performance and an in-person interview with program faculty.
Participants receive instruction on resumes, interviews, effective communications, professional networks, company culture, personal finances, business finance and career development. "Participants learn how to read and navigate the operational, cultural and political dynamics of an organization," explains Dulye. "Through the real-world advice of business pros, they learn about the expectations that employers have for new grads and what it takes to develop and brand yourself to stand out on a resumé, during an interview and ultimately, in the workplace."
A Fox Business columnist and sought-after public speaker, Dulye has earned international recognition for helping Fortune 500 and leading organizations improve performance using her firm's Spectator-Free Workplace™ program for effective communication and engagement.