Confused about the local elections? Check out Democracywise!
Don't know whom to vote for on Tuesday, Nov. 8? Don't even know who's running?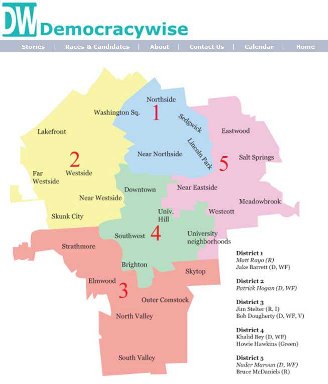 Check out Democracywise, the web voter resource and political news site managed by Charlotte Grimes, Knight Chair in Political Reporting at the S. I. Newhouse School of Public Communications. 
Democracywise has a Races & Candidates section, which features information on each candidate for the major local offices. It also includes district maps, links to the Onondaga County Board of Elections (where you can look up your polling place) and a calendar of political events. 
Democracywise also features stories on the candidates in the five contested open-seat races for the Onondaga County Legislature and the contested open-seat race for the Syracuse Common Council's District 4—written by student reporters in Grimes' political reporting class. 
Democracywise is a 2010 winner of the Chancellor's Award for Public Engagement & Scholarship.