Media, Law & Policy
Student journalists will capture democracy in action on Election Day Tuesday
To tell voters' stories, about 130 journalism students from SU's S.I. Newhouse School of Public Communications will be at the polls on Election Day as part of the school's Democracy in Action project.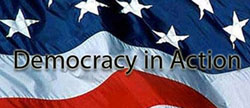 "The young journalists will capture democracy in action," says Charlotte Grimes, the school's Knight Chair in Political Reporting. "Election Day is when voters do some of their most important work as citizens. We hope to tell the stories of voters, candidates and election workers."
Election Day is Nov. 8. The student-journalists' will produce vignettes—using audio, text, photography and video—that will be posted at http://www.dia-cny.com/electionday.   
This is the second year for Democracy in Action. The project is coordinated by Grimes and two broadcast and digital journalism professors, Christy Perry and Chris Tuohey. It includes graduate and undergraduate students from 10 classes in photography, print journalism, television and radio news. The Post-Standard also will feature some of the students' work at http://syracuse.com. Other partners are local NPR radio stations WAER and WRVO, which will air some of the students' stories.
"Democracy in Action gives students from different Newhouse departments the chance to work together," says Perry. "Besides helping us all learn from each other, working collaboratively prepares students for multimedia careers." Perry is web designer and webmaster for the project.
Tuohey will coordinate audio and video coverage, including on-the-scene reports via the website. "This project gives students a real taste of what newsrooms are like on Election Day," he says.
The student-journalists will start telling the stories of Election Day shortly after 5 a.m., as election inspectors begin setting up the polling places. They'll visit close to 60 polling places across Onondaga County, as well as the traditional Election Day spaghetti lunch at Our Lady of Pompeii Church. The coverage will continue throughout the day until the polls close at 9 p.m. Some student-journalists will follow candidates as they gather to watch the vote results Tuesday night.  
Students attended a training session with Onondaga County Board of Elections' Democratic election board commissioner Ed Ryan last week. "He helped the students understand what they can and can't do on Election Day," says Perry.
In addition to the coverage on the Democracy in Action website, students will also provide updates via Twitter (@DemocracyAction) and on a Democracy in Action Facebook page. Perry is coordinating the social media coverage.
The Democracy in Action site also includes a special section called "Kids at the Polls," dedicated to parents who bring their children to the polls to teach them civic responsibility. "It's inspiring to see parents bring their children to the polls," says Grimes. "After all, Election Day is when we shape part of our future through the ballot. And democracy is a gift handed down from one generation to another."