'Caribfest 2011' to create a Carnival atmosphere for students on Nov. 5
The Syracuse University Caribbean Student Association (CSA) is hosting its annual cultural extravaganza, "Caribfest 2011," on Saturday, Nov. 5. The day will be packed with incredible international foods and festivities, including a show and concert in the afternoon, and an after-party in the evening, as well as the crowning of Mr. and Ms. Caribfest 2011. Tickets are available for purchase at the Schine Box Office. Check out the event Facebook page.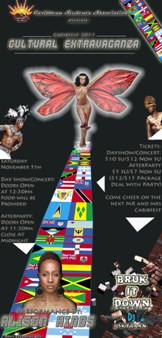 "The theme of the show is 'Cultural Extravaganza,' which brings full circle the idea that reggae attracts a broad audience worldwide, and the Caribbean is, within itself, a melting pot," says junior Lori-Ann Bramwell, day show coordinator for CSA. "You have people with Asian, Indian, European and Hispanic backgrounds, to name a few, that are alive in the various Caribbean cultures. Opening up the CSA to a bigger audience is important to our mission, which is to spread awareness of the Caribbean to our Syracuse community." 
The afternoon show will take place in the Goldstein Auditorium in the Hildegarde and J. Myer Schine Student Center and features student performances, a fashion show, and a pageant where judges will crown a Mr. and Ms. Caribfest. Doors open for show at 12:30 p.m. Tickets are $10 for SU attendees and $12 for non-SU attendees. Food will be provided. 
Following the show is an afternoon concert, where Caribbean musical Goddess and headlining act, Alison Hinds, will fill the auditorium with infectious Caribbean rhythms that are sure to get audiences waving their hands and swaying their hips. Hinds was crowned the undisputed "Queen of SOCA" (popular dance music through the SOuthern CAribbean) by fans worldwide for her powerful, emotional vocals and high-energy live shows. Hinds' musical journey has taken her throughout the Caribbean islands and the diaspora worldwide. She has won numerous awards, including 2011 Female Performer of the Year at the BMA's in Barbados, 2010 Female SOCA artist of the Year, and Best Performer at the 2010 IRWMA awards in New York. 
"Caribfest is more of a Carnival-oriented event, and to create Carnival feel, we needed to bring a SOCA artist," says sophomore Adisa Cassell, events chair for CSA. "Hinds has a vast discography of hit songs and she is a great performer. I want Syracuse to witness and experience the rich culture that the Caribbean has to offer and Hinds embodies it." 
The evening after-party, "Bruk it Down," kicks off at 11:30 p.m. at the Skybarn, located off of Farm Acre Road on South Campus. Doors will close at midnight. Music will be provided by DJ Fiasco. Tickets are $5 with an SU ID and $7 without. 
Festival-goers who are interested in attending both shows can purchase a ticket package for $12/$15. 
For more information on Caribfest 2011, contact Petricia Perville, CSA president, at pppervil@syr.edu, or visit the Facebook page.